Ogbogba community in Igalamela-Odolu local government area of Kogi state was thrown into jubilation on Monday as Alhaji Abubakar Sani led members of Frontier Club to inaugurate its electricity project abandoned since 2019.
The project which was formally inaugurated by Etemahi, His Royal Highness, Abel Emakoji Etu Ojotu (JP) drew to itself festive air which was expressed in elaborate and colourful ceremony.
To this effect, prominent sons and daughters of Igala nation from far and near graced the ceremony and were entertained to glamorous display of Igala cultural dance, music, and masquerades.
In his remarks to inaugurate the project, Etemahi IgalaMela commended Frontier Club for completing the community electricity project that will improve the standard of living of his subjects.
His Royal Highness blessed members of Frontier Club and beseeched the ancestors to bless them with the light of Igala nation in recognition of their generous service to humanity.
"The ancestral guardians of Igala nation will continually stir in their graves for your protection for this exceptional gesture to our community," he prayed.
He called on all Igala people who have the wherewithal to emulate Frontier Club by extending social services to their natal communities to raise the standard of living of their people and stem the tide of crime bedevilling the land.
Etemahi conferred a traditional title 'Agbane Etemahi' (Dooga) on a member of the Club from the community, Mr. Ihiabe Ainoko.
Also, the chairman of Ogbogba Community Development Association (OCDA), Mr Ainoko Stephen  commended the Frontier Club for making them to actualise their dream of electricity in the community,  which started since 1986.
"All efforts to extend electrification which started as far back as 1986 to the remaining part of the community proved abortive until recently when Frontier Club identified this community as one of its pilot sight to execute this year's project in IgalaMela/Odolu LGA," said Mr Ainoko Stephen.
The Chairman of Frontier Club, Alhaji Abubakar Sani, in an earlier remark explained that one of the primary aims of the Club was improving human and infrastructure development for the upliftment of the needy community in Igala nation.
In an interview, Sani stated that the club had consistently been giving scholarship to indigent students from Junior Secondary School, Senior Secondary School to tertiary institutions for about eighteen years ago now
According to him, "the club draws its financial strength from the contributions of its members. We invest over N2m annually to prosecute our  projects and this has run for years now.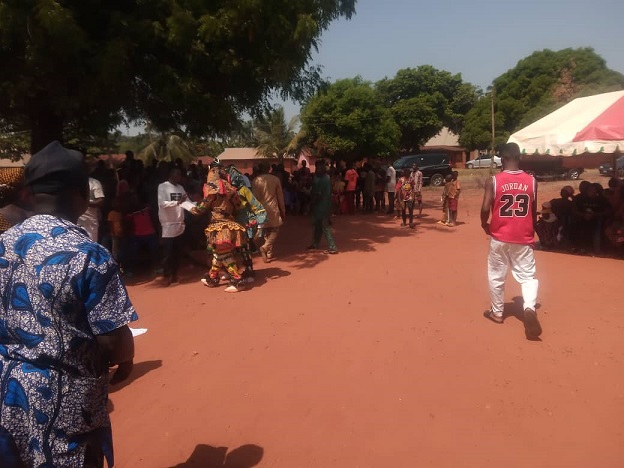 "The club made it mandatory to sponsor three indigent students from each local government of the nine councils in the Eastern part of Kogi state yearly from junior and senior secondary to tertiary institutions. 
"Presently, we have over 135 indigent students on the scholarship of the club. With the assistance of the principal of some of these institutions, and community leaders, the club identifies the beneficiaries and put them on our scholarship," he expatiated.
The highlights of this year's occasion which held at Ajaka, the headquarters of IgalaMela/Odolu local government, was the presentation of this year's scholarship awards to the beneficiaries.
A beneficiary, Eleojo Adama, HND 11 student of Federal Polytechnic, Idah who claimed to have benefited the club's scholarship gesture from JS 1 thanked the club members for making him and others to be educated through their scholarship programme.
"Without this channel, it would have been difficult for some of us to be educated. We thanked them. May God bless their handworks and link them up with their own destiny helpers," he said.