The paramount traditional ruler and Ohinoyi of Ebiraland, HRM, Alhaji Dr. Ado Ibrahim has protested over what he described as being shut out from accessing the visit of President Muhammadu Buhari to Okene on Thursday.
The Ohinoyi was conspicuously absent when President Muhammadu Buhari visited Okene in Kogi Central senatorial zone and commissioned projects executed by Governor Yahaya Bello-led administration on December 29.
One of the projects, the Okene Reference Hospital is just about 100 metres distance from the popular Azad palace from where the Ohinoyi oversees the affairs of Ebiraland.
Sources revealed that Dr. Ado Ibrahim did not send anybody to represent him in any of the ceremonies.
According to the sources, the Ohinoyi, who was hale and hearty had already set to receive the President in his palace, having laid the Presidential chairs and red carpet, was surprised that the president came and left without visiting him in the palace.
"Worse of all, the Ohinoyi was virtually detained in the palace with his team when he wanted to go out and witness the commissioning of the Reference Hospital, which is a walking distance. Some police vehicles were stationed at the entrances to the palace, blocking any vehicle coming in or going out."
The sources hinted that the explosion which occurred at the back of the palace, killing three people and injuring one was used as an excuse for the blockage of the entrances to the palace.
"It's obvious that the President was not properly briefed about the incidence, which had great impact on parts of the palace," the source said.
Our reporter who visited the palace shortly after the departure of President Buhari confirmed that executive chairs that had been carefully set to receive the president were virtually empty and that the Ohinoyi was seen sitting on his throne discussing with some of his inner caucus.
Particles of broken windows and walls felled by the impact of the explosion scattered on the ground.
During the visit of President Muhammadu Buhari in Okene on Wednesday, the Ohi of Okengwe, Alhaji Mohammed Tijjani Anage, was presented as representative of Ohinoyi Ado Ibrahim on behalf of the traditional rulers of the Central Senatorial Zone of the State.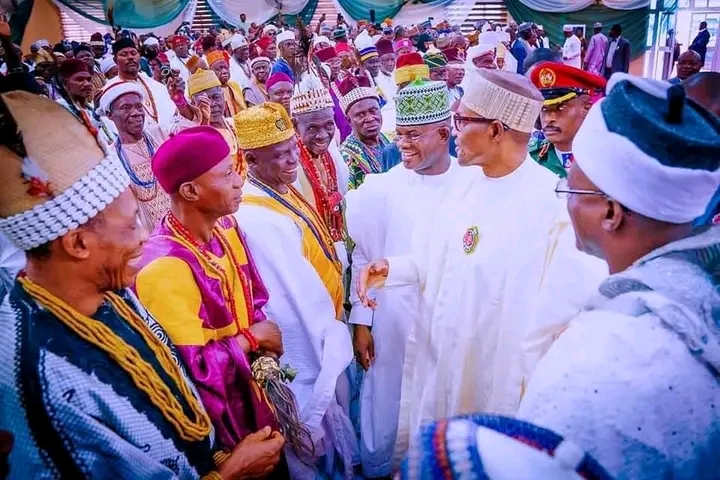 The Ohi of Okengwe had thanked President Buhari for his support to Governor Yahaya Bello's administration and for being the first sitting President of Nigeria to visit Kogi State on a working visit.