The apex body of civil society organizations (CSOs), Kogi NGOs Network (KONGONET) has re-elected Idris Muraina Ozovehe as its Chairperson.
Muraina was elected alongside 8 others at the group's elective annual general meeting held in Lokoja on Tuesday.
Dr. Hope Abraham Omeiza was elected Vice Chairman while Mr. Reuben Joshua emerge Secretary.
Others are Success Adejoh Sunday, PRO; Bosede Micah, Financial Secretary; Hasana Umar, Treasurer; Bola Ibiteye, Assistant Secretary; Ojogbane David, Auditor and Kemi Omeiza as Legal Adviser.
Speaking with newsmen after the inauguration of the new executives, the Chairperson pledged to carry all CSOs and other stakeholders along in decision making and advocacy initiatives.
Muraina noted that the interest of masses in the state will continue to be the priority of KONGONET under his watch.
He noted that KONGONET see itself as a partner, not an enemy of the state government, but insisted that interest of the people will continue to be KONGONET's driving force.
"This is an opportunity for us to continue the struggle we started. In my acceptance speech during my first tenure, I said one of my major objective is the ensure Kogi state government sign up to the Open Governance Partnership (OGP). Luckily enough, before the end of my tenure we were able to get that. This is an opportunity to begin to improve upon what we have started, to ensure that now that Kogi has signed up to OGP there must be a state action plan that will see to how we implement to the benefit of our people.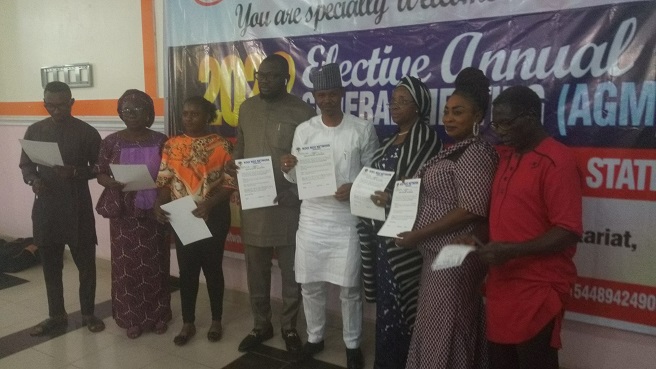 "Let me quickly remind us that our collective push, consistency and collaborative efforts as civil society actors in the state gave birth to the presentation as a private member bill, passage, assent and inauguration of Kogi State Youth Development Commission.
"Also, the presentation as a private member bill, passage, assent and inauguration of Kogi State Office for Disability Affairs. The presentation aas private member bill, passage and assent to Violence Against Persons Prohibition (VAPP) Law in Kogi state.
"The consistent engagement for the signing of Open Governance Partnership (OGP) by the Kogi state government.
"Our diplomatic and consistency at engaging the governance system of the state – the executive, legislature and judiciary – has placed KONGONET at its rightful position to participate and give people-oriented recommendations nd perception to governance decisions in the state," he said.
In a paper presentation, the executive director of Challenged Parenthood Initiative (CPI), Eunice Abimbola Agbogun, commended CSOs in the state on the effective advocacy that led to passage and assent to the violence against persons prohibition (VAPP) bill.
Agbogun assured that civil society will continue to engage government in the implementation of the VAPP Law.