In recognition of his efforts in ensuring gender balance in governance, the Standup for Women Society (SWS) has bestowed its National Distinction Award on Governor Yahaya Bello of Kogi state.
International President of SWS, Barr. Deborah Ijadele-Adetona, presented the distinguished SWS National Award to Governor Bello during the award night of the 2nd Annual International Conference held in Abuja on Friday.
According to Ijadele-Adetona, the award was bestowed on Bello for his inclusion of women in governance beyond the Beijing 35% affirmative action.
Barr. Ijadele-Asetona described the award as a tribute to his commitment to championing women's rights and their inclusion in leadership roles.
Accepting the award on behalf of Governor Bello, Hon. Avoyi Nwogu, the Senior Special Assistant to the Governor on Electronic Media, expressed the governor's profound gratitude, saying that Governor Bello has been dedicated to providing opportunities for women in his administration.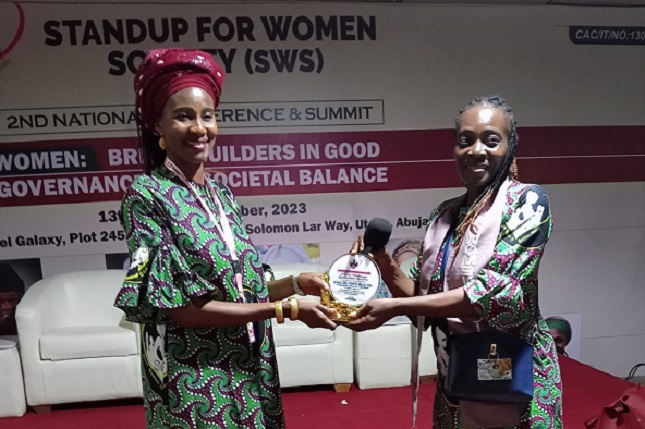 "Governor Bello's administration, since its inception, has consistently placed women in key roles. I can assure you that he will continue to create opportunities for women to participate in governance in the state, even after his tenure, as he has frequently expressed his deep-seated desire to see women progress.
"He is a selfless leader who considers the welfare of all, not only women. And it is today on record that his leadership has provided more opportunities for women than any other government in the history of Kogi State," she added.
"I can confidently say that if the candidate of the All Progressives Congress (APC) is given the chance, he will work towards ensuring an increased women's participation in politics because he has learnt well under Governor Bello."
Hon. Nwogu also urged the citizens of Kogi State to wholeheartedly support and vote for the continuity of the All Progressives Congress (APC) government in office and its candidate, Alhaji Usman Ododo, in the upcoming November 11 governorship elections.