The three-day event that sealed the royal wedding between Chief Barr. Natasha Hadiza Akpoti, the Ohiogu of Ebiraland and the Alema of Warri Kingdom, Chief Emmanuel Oritsejolomi Uduaghan was adjudged unprecedented in the history of Kogi State, especially Kogi Central District and precisely Ihima where Natasha comes from.
In a historical gathering, notable Nigerians from political and business sectors stormed Natasha's Obeiba community, Ihima, Okehi local government area of Kogi State to celebrate with the royal couple. 
Among others were; Delta State Governor, Dr. Ifeanyi Okowa; former senate president, Dr. Bukola Saraki; PDP National Chairman, Senator Iyorchia Ayu; two former Delta State Governors, Dr. Emmanuel Eweta Uduaghan and His Execllency James Ibori; Honorable Minister of Niger Delta Affairs and former Akwa Ibom State Governor, Senator Godswill Akpabio; Minister of Mines and Steel, Uche Ogah; former Kogi Deputy Governor, Dr. Phillips Salawu; former Attorney General of the Federation, Muhammed Adoke; former APC National Chairman, Chief John Odigie Oyegun; His Royal Majesties the Ohinoyi of Ebiraland and the Olu of Warri.
Also present were Nigerian music stars; 2Face, Kiss Daniel, Oritsefemi, Faze, Inyanya, Daddy Showkey, Danfo Driver, Hype Man, Don2tun and the rest who made threw the community into ceaseless jubilation day and night.
From her widely celebrated traditional title coronation as the Ohiogu of Ebiraland to the all-night musical concert, from the dowry rites to the mind blowing reception, Natasha Akpoti has proven once again how much she is connected to her people and ready to bring opportunities close to them and build on their potentials.
While the events came with with so much merriments and fun that lasted from 3rd to 5th of March 2022, one significant importance of the moment was the socio-economic impact it made on businesses and the lives of the downtrodden.
Accommodation:
Not less than 30 hotels, guest houses and lodges in Kogi Central District were booked for utilization few days to the commencement of the wedding events. More than 20 others were utilized throughout the 3-4 days of the events.
In a brief interaction with one of the hotel managers, he confessed that before the wedding, they barely have daily patronage.
"Sometimes, even weekends we don't have a single customer in our lodge. But as am speaking with you now, all our rooms are taken since the past two days. The woman is a blessing to Anebira (Ebira people)" he said.
Transportation:
The Tltaxi drivers, okada and keke riders made a lot of money to their pockets while the event lasted with heavy influx of people across walks of life into the District.
From Ihima to Okene and other axes, passengers were by roadsides dragging cabs.
MSMEs:
In and outside Ihima, petty traders especially along majors ways recorded high sales and profits occasioned by the unusual population the wedding attracted to the area. Filling stations, POS terminals, shopping outlets and bars were largely patronized. Restaurants, akara and pap joints were becrowded despite the massive cooking spots put together to serve the population estimated to attend the events.
Works:
On the construction site where Natasha Akpoti has put up and still putting up some beautiful edifices both commercial and residential, over a hundred labourers and not less than 50 technical workers are working and earning their livelihoods. The ripple effect of the construction works is felt even by the neighbouring towns from where equipment parts and building supplies are being sourced. Many of the usually idle youths are engaged in menial jobs, site supervision and guard works.
Future Investment:
There are many resourceful individuals both from and outside Ihima, Ebiraland, who the wedding must have granted the opportunity to identify possible areas for future investment considering the geographical nature which is majorly surrounded by giant rocks and hills and some vast farm lands.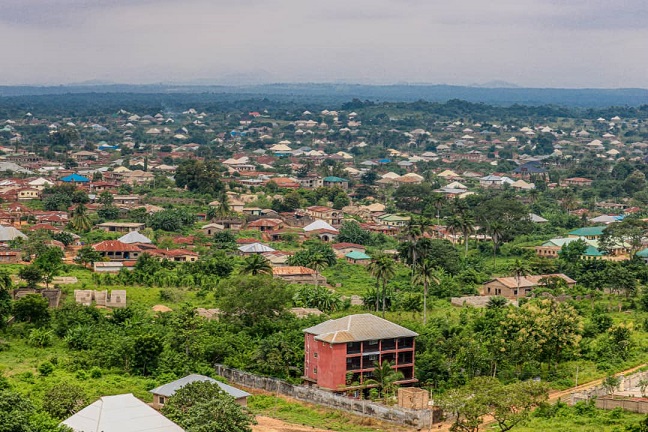 Although yet to occupy a political office, but many writers within and outside Kogi State have penned Natasha Akpoti as the most impactful leader in the state, if not a government in her own right.