Kogi State Security Adviser, Navy Commander Jerry Omodara (rtd) has described Kabba Development Union (KDU) as a respected and viable organization that is known for equity and justice.
Omodara made this known when he, alongside the Chairman of Kabba/Bunu LG Council, Hon Moses Olorunleke, and other leaders of All Progressives Congress (APC) met with KDU executives in Kabba on Tuesday.
In the meeting, Omodara formally presented the APC House of Assembly candidate for Kabba-Bunu state constituency, Hon. Seyi Bello to the President of KDU, Engr. Emmanuel Ajibero and the leadership of the union.
Shortly before presenting the APC Assembly candidate, Omodara told the participants that the move became necessary because some group of persons were trying to cause disunity among a hitherto united Kabba/Bunu LG.
Chief Funsho Olorunfemi, the Obajana of Owe land who was also part of the delegation, spoke passionately on the need to sustain the long existing rotational formula between Kabba and Bunu as that was the only way to retain and foster more peace and unity within the two districts.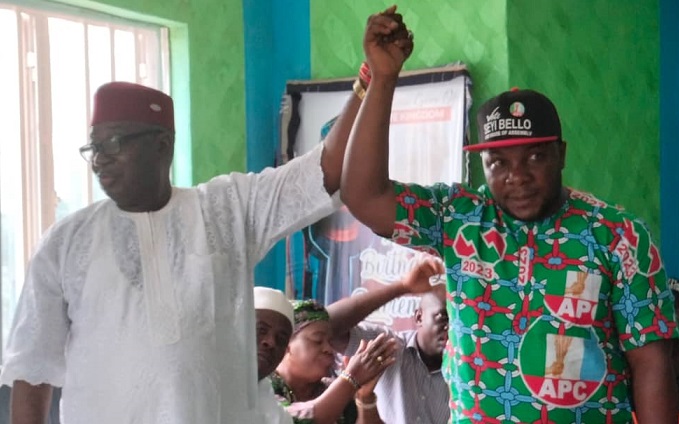 He noted that the two political offices being rotated by the two districts is the Local Government Council Chairman and the State House of Assembly.
Hon. Moses Olorunleke in his speech explained some similar cultures between Kabba and Bunu, adding that the two districts share virtually same culture. He (Hon. Moses Olorunleke), pleaded "that politics shouldn't be the reason why we no longer see ourselves as one."
On his part, Engr. Emmanuel Ajibero, described Cdr. Jerry Omodara as a true patriot and a community leader with vast experience. He thanked them for coming at the appropriate time to address the issues of political office rotation between Kabba and Bunu district. Engr. Ajibero denounced the assertion that the people of Kabba will not vote for APC that the KDU is not part of such a divisive act. He promised to meet with his people to ensure that the needful was being done.
The APC stakeholders also presented Hon Seyi Bello to Idogba Royal family of Kabba where they pledged their total support for the APC candidate. While the State Security Adviser also met with some other communities and groups in Kabba and Bunu Districts.