Ahead of Saturday, November 11 governorship election in Kogi state, Conscience for Human Rights and Conflict Resolution (CHRCR) has called on Independent National Electoral Commission (INEC) and other stakeholders to protect the integrity of the ballot.
In a statement issued in Lokoja on Thursday, the Executive Director of CHRCR, Comrade Idris Miliki urged INEC to live up to expectation of the people and abide by its promises that the election shall be free, fair and acceptable.
CHRCR demanded that election materials be made available on time to various polling units and INEC provide backup of both human resources and equipment.
"As the governorship election gets nearer and all is set for a free and fair election, we have observed the level of preparation of INEC, the political parties and their candidates, various media reports, the interventions and complimentary role of civil society organizations (CSOs).
"We have also noticed the arrival of various security personnel. We call various security agents deployed to Kogi state for the purpose of November 11th governorship election to be professional, civil, humane and diligent in their duties and maintain absolute neutrality in their conduct, before, during and post-election activities.
"We urge all candidates, participating political parties and their supporters across board to play according to the rules as election is a game of contests and a winner shall emerged. All participants cannot win the same time. But their participation will add value to the whole process," the statement read.
While calling on the electorate to come out and vote peacefully, CHRCR tasked the media to be professional in their conduct and reportage and avoid sensationalism.
"We urge all stakeholders, especially the security agents to take note of the following Local Government Areas as flash point and trigger zones based on our own assessment:
Western Senatorial District:
Ijumu LGA and Kogi Koton-Karfe LGA
Central Senatorial District:
Okene LGA, Okehi LGA and Ajaokuta LGA
Eastern Senatorial District:
Dekina LGA, Idah LGA, Ankpa LGA, Igalamela/Odolu LGA, Ofu LGA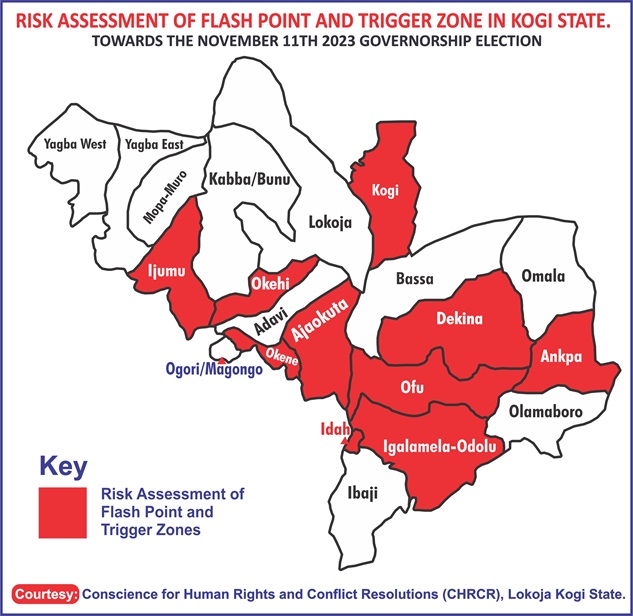 We should all remember that election is about Ballot and not Bullet.