Nigerian award-winning journalist, Arogbonlo Israel, has been recognised by a UK-based organisation, Global Peace Lets Talk (GPLT), for his laudable contributions towards peace and security in the globe.
The Certificate of Excellence was virtually presented to the peace enthusiast by the GPLT Global Coordinator, Dr Nikki Pina on Tuesday.
The organisation, according to Mr Israel, is envisioned with the mission to "connect catalysts of Peace leaders globally wherein they can form circles of cooperation and collaboration, shared vision and support projects which improve lives".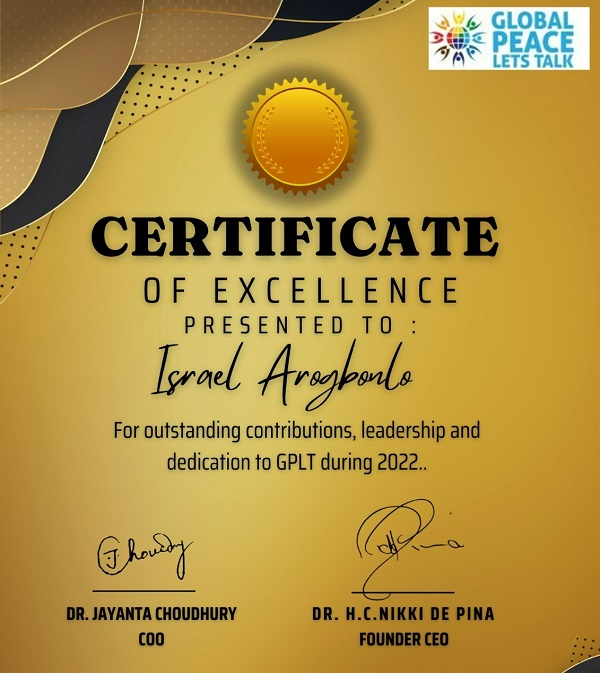 Expressing his heartfelt gratitude over the honour, Kogi-born journalist wrote;
"I am so honoured to have my work recognised in this way by the Global Peace Let's Talk (GPLT).
"I also use this medium to thank all the advocates of peace across the African continent and the world by extension. Thank you for not relenting and being poised to make our world a better place for all. You all are the real heroes.
"My profound gratitude won't be complete without appreciating the founder and Chief Executive Officer, Dr Nikki de Pina for her great exemplary leadership and passion for peace advocacy and youth empowerment, especially among young people across the globe. Your selfless and motherly role is top-notch and a great inspiration to us. Thank you for all you do at GPLT and your laudable contributions towards peace and development."
He also dedicated the award to "all victims of electoral violence in the just-concluded 2023 elections in Nigeria", adding that "we will continue to advocate for a democratic system that respects human lives irrespective of our political, religious, or ethnic inclinations. Let peace leads".