Conscience for Human Right and Conflict Resolution (CHRCR) has called on fellow civil society organizations and media practitioners to sustain their integrity and adhere to ethics of their professions.
Speaking a one-day program for CSOs and the media on ethics and integrity in the fight against corruption in Lokoja on Wednesday, Executive Director of CHRCR, Comrade Idris Miliki Abdul, described corruption as absence of ethical conducts.
Miliki stated that ethics is a fundamental principle while integrity is consistent uprightness and wholesome conduct.
He stressed that ethics is important in governance as well as among the civil society organizations and the media, who were described as part of the building blocks of a vibrant democracy.
He submitted that corruption is the absence of ethics and integrity.
Miliki tasked political actors to popular participation.
He noted that popular participation is an important part of democracy as it increase opportunity for active citizenship, increase equality of access to policy and decision-making. It equally increases quality service to the people.
The program organized by CHRCR in partnership with Civil Society Legislative Advocacy Centre (CISLAC) had in attendance members of selected CSOs, women groups, religious and youth leaders, persons with disabilities (PWD) and media practitioners.
The one-day program reviewed the post-2023 elections on ethics and integrity in the fight against corruption and ensuring accountability.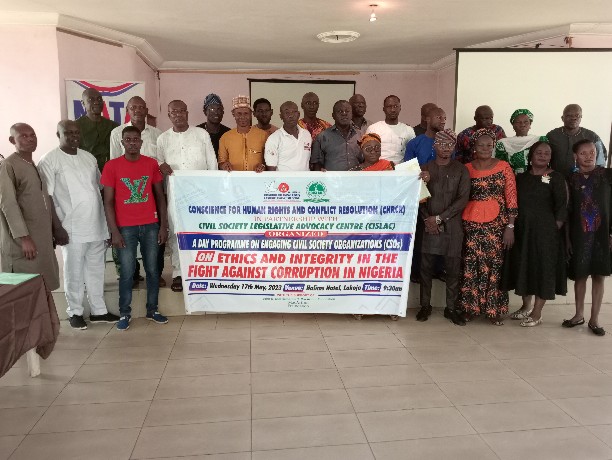 Participants submitted that lack of ethics and integrity within civil society organization and media created big vacuum in the acceptability of the services they render by the society.
They also agreed that the Independent National Electoral Commission (INEC) has not improved in ethics and integrity in the just concluded 2023 elections, despite the improved provisions in the 2022 Electoral Act.
Civil society organizations were challenged to up their game in the promotion of ethics and integrity.