A civil society organization, Lugard Youth Development and Empowerment Initiative (LYDEI) has called on government institutions to be transparent and ensure prompt disclosure of covid-19 vaccines in Kogi state.
The Executive Director of LYDEI, Comrade Okwutepa Aminu Oseni, made the call during a one-day capacity building workshop for social media influencers to promote covid-19 vaccination in Lokoja, the Kogi state capital, on Thursday.
Okwutepa said the call for transparency is necessary as it will equip stakeholders with workable data and also increase the rate of vaccination in the state.
He explained that the capacity building workshop was aimed at engaging social media influencers in the state who will be trained to be ambassadors in the fight against covid-19 in Kogi state, adding that the role new media play in promoting the vaccine uptake in the state cannot be over emphasised.
Dr Ahmed Attah, former Chief Medical Director (CMD) of Kogi State Specialist Hospital, Lokoja in his paper themed: "Covid-19 Vaccination: Issues, Challenges and Prospects" at the workshop doused the fears of toxicity of the vaccines.
He said that the vaccines were not poisonous as their production has globally accepted recommended processes, procedures and standard that are properly documented.
Attah stressed that the Covid-19 vaccines were being monitored by highly respected agencies like the World Health Organisation (WHO) and UNICEF as regulating bodies to ensure safety and effectiveness for asministration.
Attah hinted that Kogi was already working with WHO and organised NGOs to commence mass vaccination of Its citizens.
He cautioned against playing politics with covid-19 pandemic and vaccination.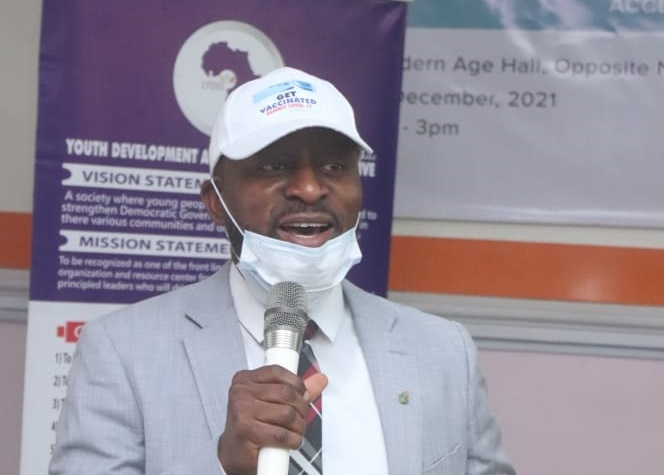 Joy Baiye, Media and Outreach Coordinator at Search for Common Ground, trained participants on 'Countering Misinformation and Fake News on COVID-19 Vaccine'.
In his goodwill address, the representative of Jama'atu Nasril Islam (JNI), Kogi chapter, Engr. Tawhid Usman, noted that the state has an uphill task in combating fake news and misinformation about covid-19 vaccines.
He said JNI as a body have an obligation to follow advices from medical professionals on the pandemic and vaccines, assuring that members will be encouraged to embrace the vaccines.
He stated that the advocacy was timely and JNI will give necessary support,
The chairperson of Kogi NGO Network (KONGONET), Muraina Ozovehe Idris, calls for increased focus on youth groups.
Muraina pledged the support of civil society organizations in Kogi state and encouraged social media influencers to brace up and demystify misinformation about covid-19 vaccines.
The training was in partnership with Centre for Information Technology and Development (CITAD) with support from MacArthur Foundation.