By Stephen Adeleye.
A renown Entrepreneur, Mr Oseghale Joe Wealth, has been honoured with honorary doctorate degree as Doctor of International Affairs (DIA) by the Africa Theological Education Network, Nigeria (ATEN).
The award was given during the Convocation/Awards Honours' Conference, held at Federal University Lokoja (FUL), with the theme: "Understanding Why: A Case For Culture & Leadership".
The program was organised by ATEN Nigeria in conjunction with Vision International University, USA, Bircham International University, Spain and Global Seminary University, Worldwide.
In his address, Prof. Noah Raimi Yakubu, President and Primate, Universal College of Bishops and Overseers (UCBO), described the event as a day of progress, success and breakthrough.
Yakubu said that the awardees are worthy in character and learning as well as service to God and humanity.
He prayed God to guide and cover them with awesomeness to enable them to continue to serve God and humanity.
The President urged the awardees to be agent of peace and promoters of success, and pray for the peace of the world, saying, "Jesus is the symbol of peace"..
Primate Noah advised the recipients to promote moral values, and be agents of spreading the gospel of Jesus Christ,
He noted that the influence of religion had become minimal due to the advancement of technology, but urged the awardees to stand firm and be committed to serving God.
In his response, Joe Wealth expressed excitement over his nomination for the Honorary Doctorate award describing it as a 'surprise'.
He dedicated the Award to God Almighty and His Dear wife Nora Adebola Oseghale for her constant Support.
"I give God all the praise; all the little things we are doing we never knew it was going so far to sensitive quarters.
"I want to use this opportunity to advise everyone that everything we are doing in this life, no matter what we do in the secret, everything will be in public and people are watching and study our lives.
"As a Christian, let us be an example to all believers, let us draw people to God, and help people to know the right path to take in life.
"Just be doing your best and look unto God, even in scarcity, in lack, in abundance; just be doing your best and stand for the truth," he advised.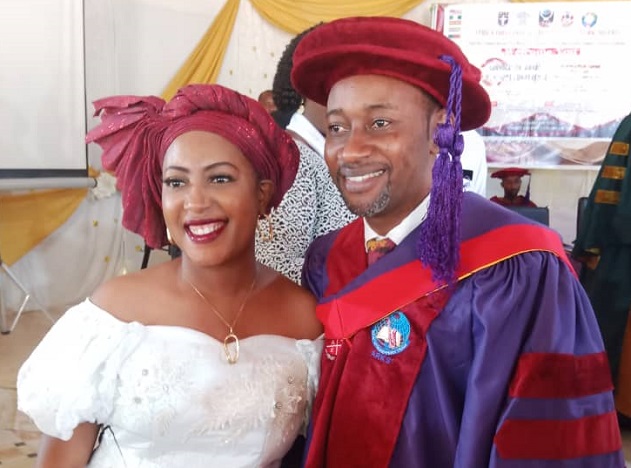 Joe Wealth, a start-up business consultant, advised the youths to exhibit high level of integrity, focus, and be hardworking, saying it will surely pay.
The entrepreneur, who is also the Solar Consultant, and Team Lead, Team Solar Power, Africa, encouraged young ones to research and discover themselves.
He urged the youth to focus all their strength on building and equipping themselves, while contributing to finding solution to problems, saying "wealth will surely come".