Kogi State Commissioner for Finance, Budget and Planning, Asiwaju Idris Asiru, has pledged to support the plan to build an ultramodern palace for the Agbana of Isanlu from inception to successful completion.
Asiru made the pledge on Saturday at the second year anniversary celebration of the coronation of Agbana of Isanlu, Oba Moses Babatunde Etombi.
He announced that the state government has earmarked funds for modern palaces for three first class traditional rulers in the 2023 Kogi State budget proposal recently approved by the executive council.
Asiru assured the community of Governors Yahaya Bello's commitment to elevating the status of traditional rulers in the state and accelerated infrastructural development.
He made a donation of 20 million Naira towards the palace project.
Also, the co-launcher, Mr. Olayinka Braimoh announced a donation of 10 million Naira.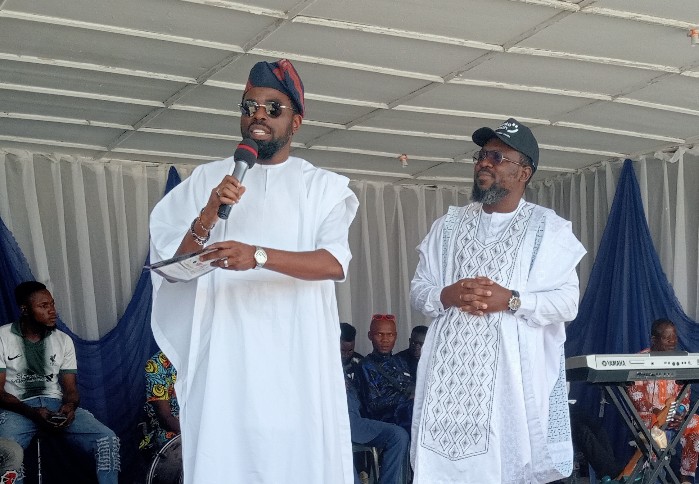 Braimoh, a businessman, described the Agbana of Isanlu, as a man of outstanding qualities who has done so well to transform his community within the short period of ascending the throne of his forefathers.
He said there was no doubt that the credibility and excellent record of the traditional ruler have earned him a trademark of a selfless leader who has attracted many good things to his community within his years of reign.
The business mogul said Oba Etombi's reign in the last two years has added honor, glory and distinction to the Agbana royal stool and prayed to God to give the royal father the needed wisdom, good health, long life and peaceful reign.
An elder statesman, Dr. William Toyin Akanle, announced a donation of N5million by the Agbana Palace Building Committee.
Also, the member representing Yagba federal constituency in the House of Representatives, Elder Leke Abejide, supported the palace project with N1m.
Abejide, who was represented by the Mayegun of Isanlu land, Chief Dare Olatunde, reiterated his commitment to the laudable project.
House of Representatives candidate of the People Democratic Party (PDP), Chief Tolorunjuwon Joseph Faniyi, senatorial candidate of APC, Hon. Steve Karimi, ADC House of Assembly candidate, Chief Adesoji Odofin and several other dignitaries supported the palace project with handsome donations.
Earlier, in his address, the National President of Isanlu Progressive Union, Bashorun Adedayo Kayode commended the palace building committee for their sacrifices.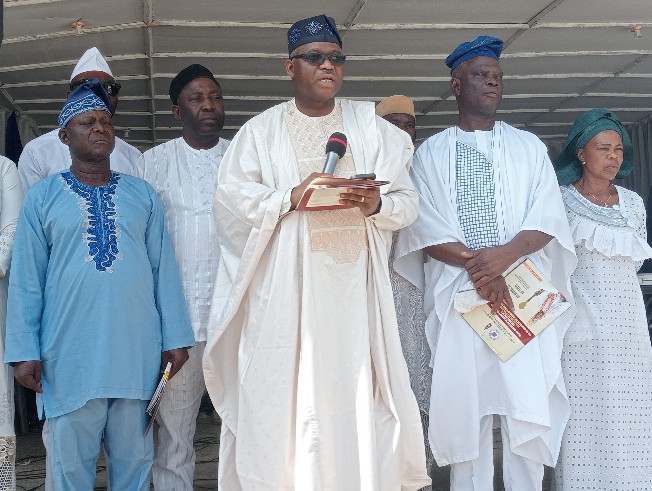 The IPU President noted that Isanlu kingdom has greatly enjoyed uninterrupted peace and unity under the watch of Oba Etombi.
"The security of lives and property have remained the topmost priority of Kabiyesi. Through the influence of Oba Moses Babatunde Etombi, we have been able to hold meetings with security agencies in Isanlu to discuss strategies, intelligent and constructive approaches capable of combating security challenges.
"Our Kabiyesi is indeed a blessing to us in Isanlu. The kingdom has immensely prospered under his watch," he said.
Oba Etombi, the Chairman Yagba East local government traditional council, called for more support to build on successes recorded in last two years.
"We have every cause to roll out the drums and celebrate today.
"In this last two years, we have taken some bold steps to address some very pressing issues in social, cultural and developmental challenges facing our dear kingdom, such as increases in land disputes, lost of cultural values, disunity insecurity and youth restiveness, drug abuses and declining interest and performance in educational attainment.
"We engaged all stakeholders including the youth, security agencies, artisans, traditional rulers, religion leaders and to the glory of God this enabled us to make significant changes and laudable progress.
"The results of all of these is what we are witnessing today and are manifesting in urbanization of Kingdom rural development for our various communities, improvement health care delivery, better commitment of our children and youths to educational advancements, infrastructure development and improved security of life and property.
"The results are evidently there for everyone to see, where we are now is the National Open University of Nigeria (NOUN) Isanlu Study Center. In addition to this, we have the Federal College of Education (Technical) Isanlu Campus, Odeyemi College of Science and Technology Iddo-Ojesha (this school offers free tuition for all indigent Students courtesy Prof Isaac Odeyemi Foundation), Isanlu General Hospital has been upgraded to standard with all the facilities working and an ambulance service which runs effectively. An ultra-modern new General Hospital is been constructed, which is at about 90% completion courtesy of the Kogi State Government. We have Okun Hospital which is already opened to the public, the Telemedicine Centre in Makutu courtesy of Dr (Mrs) Funmi Adewara of WHO and Prof Eyitayo Lambo Foundation. The telemedicine centre is first of its kind in the North Central and South West Nigeria. Okun College of Medicine and Nursing Science at almost 80% completion and awaiting Federal Government approval after getting the nod of the Kogi State House of Assembly.
"To the glory of God, there are five completed township roads with solar streets lights and this include the Palace Road, all courtesy of FERMA and facilitated by an illustrious daughter of the Kingdom.
"We have witnessed an unprecedented reduction in herders-farmers conflicts and this has enabled us to record bumper harvest. If we could witness these within two years, we are very optimistic that Isanlu will become the Isanlu we all desire very soon by the grace of God.
"Also, with this period, the Lord has been good to us in the area of advancement for our sons and daughters in their various careers. We produced our first Senior Advocate of Nigeria (SAN) in person of Mr. Eyitayo Ayokunle Fatogun, equally in the academic we have six of our sons and daughters elevated to the prestigious rank of Professorship in various fields which today brings the number of Professors produced by Isanlu to about fifty. We may probably be one of the few kingdoms within Kogi State and Nigeria with kind of large numbers of distinguished and accomplished academics," he said.
Agbana of Isanlu commended Governor Yahaya Bello for the recognition accorded traditional institutions in the state.
"With the help of our own son, Hon. Commissioner for Finance, Hon Asiwaju Idris Asiru, nine of our ungraded Obas were graded to third class status, although we are still praying and looking forward for more grading and upgrading as this also help us in fostering Traditional Rulers harmony, sense of belonging and it reduces rancor in community obaship selection when vacant."
Agbana of Isanlu confered traditional titles on three distinguished daughter and sons of the kingdom.
High Chief Gloria Dubi llemore as Yeye Oba of Isanlu Kingdom.
Also, Engr Francis Oluwole Osasona was conferred with the Bobagunwa of Isanlu Kingdom title while Engr Ayo Aloko became the Gbeluniyi of Isanlu Kingdom.