A civil society organization, Connected Development (CODE), has advised women and youths in Kogi against vote selling, and the need to collect their Permanent Voter's Card (PVC) and vote for credible candidates in the 2023 elections.
Amb. Hamzat Lawal, the Executive Director of Connected Development, gave the advice when he empowered over 350 women with cash at Upogoro/Odenku ward in Okene Local Government Area of Kogi State.
Lawal, who is an International Election Monitor, said the cash donation was to boost the women's petty trading as part of effort to improve the livelihoods of the people at the grassroot. 
He added that the empowerment was alsi part of the sensitization advocacy to the grassroots against vote buying and selling during elections.
Lawal stressed that the empowerment is a token to appreciate women for their support when he declared to vie for the ticket of House of Representative under the platform of the All Progressive Congress.
According to him, he was in Upogoro/Odenku ward to kick start a door to door, house to house and ward to ward sensitization advocacy for the collection of PVC.
He added that it was to also educate the electorate ahead of 2023 general election on the need for them to do away with vote buying and selling associated with election in the country.
He described vote buying and selling as a great threat to the political development of Nigeria and urged voters,  especially women to resist any attempt by money bags politicians to deceive them with rice, cloth, maggi and money at the detriment of their future.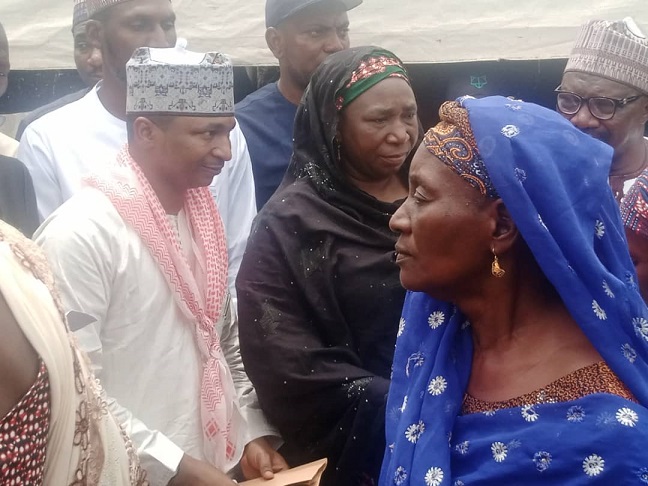 "As a mobilizer working with grassroots, my simple message is that if politicians that are corrupt come to you to induce you with petty items, you should reject their offers.
"Do not collect money rather vote on issues, listen to them and ask them salient questions about their ideas and what are their plans.
"You should vote for people you can hold to account for their stewardship and people that can deliver dividend of democracy to you in order to improve your well being.
"Democracy is about development and welfarism of the citizens but a situation you decided to sell your vote to wrong candidates you continue to dwell in abject poverty while the politicians swim with his family in opulence and comfort" he said.
Responding, the women leader, Mrs Bilkisu Ahmed, commended the organisation for the pre-campaign sensitisation and assured that women in the ward would heed to the advise of no selling of votes.
"If we sell our votes, the politicians that buy the votes will have to recoup their money and at the end of the tenure they will not be able to deliver dividend of democracy.
"I am also using this medium to advise our youth that are used to cause electoral violence to have a rethink because the politicians that use them their children are in abroad schooling" she said.
Also speaking, Comrade Usman Abdulsalam, a youth leader, said he was impressed by the sensitization carried out by the organisation ahead of 2023 general election.
He said that the meeting had opened many people eyes to the negative effect of selling votes to politicians who have nothing to offer in return.
Abdulsalam assured that henceforth their votes will be based on capacity and antecedent of candidates.