President Muhammadu Buhari Thursday in Abuja granted automatic employment in the Federal Civil Service, scholarships and cash prizes to 52 former members of the National Youth Service Corps (NYSC), highlighting numerous achievements of the scheme since its establishment 50 years ago.
Among the 52 outstanding ex-corps members conferred with the President's NYSC Honours Award were 3 outstanding Kogi-born graduates who executed laudable projects during their service year, respectively. They are Ishiaka Mercy Lovelyn (Ebira), Adejoh Solomon (Igala) and Arogbonlo Idowu Israel (Okun).
Ishiaka and Israel both graduated from Kogi State University (KSU) while Solomon completed his tertiary education at Federal Polytechnic, Idah.
Speaking shortly after receiving the awards, the trio thanked Federal Government for honouring them and promised to be good ambassadors of the country at all times while calling on serving Corps members to live by the tenets of the Scheme in the course of their service to fatherland.
13 other ex-Corps members who were physically challenged ex-corps members were also recognised under the NYSC Hope Alive programme.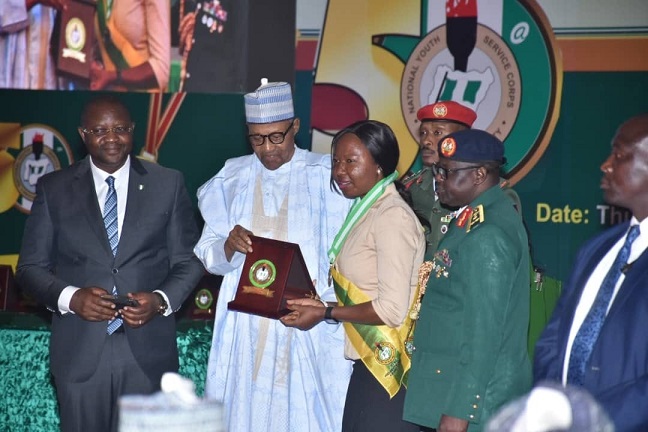 In his remarks, the Minister of Youth and Sports Development, Sunday Dare, while commending the former corps members chosen for the Presidential Honour, said their sacrifices and commendable contributions, reflect the positive values they embodied during their service year.
"By distinguishing yourselves among hundreds of thousands of Corps members, you embody the nation's pride and serve as a source of inspiration for other young people in Nigeria. Your strong sense of discipline, selflessness, dedication to work, exceptional community service, innovation, and leadership qualities enhance our hope for the country's future. I am confident that this Award will motivate you to render even greater service to our homeland.
"To the current corps members and other young individuals, it is my sincere hope that you will emulate these awardees by embracing higher ideals of patriotism. In everything you do, always prioritize Nigeria and let it manifest through sacrifice and dedicated service to our beloved nation," he said.