By Muhammed Nasiru Adejoh.
The member representing Ankpa, Omala and Olamaboro Federal Constituency at the House of Representatives and Chairman of the House Committee on Steel Development, Rep Abdullahi Ibrahim Halims has been highly commended by leaders of Igah community in Olamaboro Local Government Area of Kogi State for his donation of multi million naira worth of scientific equipment to Igah Ocheba Community Secondary School, Igah.
According to Hon. Halims, the donation which is made through his hitherto partnership with the Scientific Equipment Development Institute(SEDI), Akwukwe, Enugu is in line with his desire to reposition the education sector through the provision of all necessary teaching aids that would in turn, develop students' sagacity and grant teachers the capacity to prepare them for maximum performance in both internal and external examinations.
The commendation was made during a thank you visit by the community leaders ably led by the HRH Chief Matthew Ekele, the Akomu Ejeh and district head of Igah to take delivery of Hon. Abdullahi Ibrahim Halims' pledge to a revered community leader, Dr. Jacob Ekele, who had earlier made the request from the Federal Lawmaker on behalf of the entire community.
In her remarks, the Principal of Igah Community Secondary, Mrs Oguche Rabi Patricia described the gesture as an unconventional contribution to the development of Science education adding that being part of her students' enthusiasm to behold the kits, sent their warm appreciation to the Honorable vis-a-vis cake and wine present.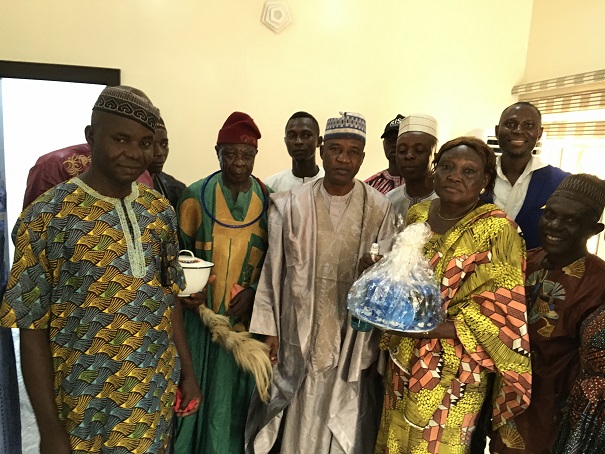 While responding, Hon. Halims reiterated his commitment toward delivering dividends of democracy to the entire people of Ankpa, Omala and Olamaboro Federal Constituency stressing that his deliberate investments into the education sector is motivated by his knowledge of the imp of education, especially science and technology to the development of every society.