Those who are the happiest on the planet earth are those who do the most for others in dire need.
They are always comfortable in rendering help to the common people without any reason and give cheerfully without the expectation of getting anything in return.
The youngest Chief of Staff (CoS) in Nigeria to Kogi State Governor, Asuku Jamiu is a firm and unrepentant believer in the axiom that says; Service and positive contribution to the well-being of the people is the rent you pay for your abode right here on earth. His perspective about life makes every individual around him wanting to live more thoughtfully and be impactful in all ramifications.
Without mincing words,one thing that distinguish 'Kareem from his contemporaries is that: people admire his determination & commitment when he strongly believes in something or someone.
No wonder, some of his admirers nicknamed him a go – getter and unprecedented destiny helper of great repute.
Going forward, when you are searching for a rare gem that gives you a double reassurance, even when things don't go as envisaged, Jamiu is that selfless, altruistic & humane Leader you can rely heavily upon. With his infectious smile and humility, he radiates hope in the face of glaring hopelessness.
He has creative ideas in multiple folds; he is thoughtful in benevolence; he is so poised & level headed in handling difficult situations and step up for the 'New Direction' Administration of Governor Yahaya Adoza Bello without being instructed.
Jamiu AbdulKareem was born on January, 2nd 1984 at Uruvicheba, Okene, Old Kwara, now christened Kogi State.
He attended Local Government Education Authority (LGEA) Primary School, Ogogoro, Okehi LG spanning 1989- 1994.
In view of his academic excellence, he thereafter proceeded to the famous Abdul Azeez Attah Memorial College (AAAMCO), Okene between 1994 & 2000.
After showcasing what he was made of at AAAMCO winning academic laurels within & outside the State, the young, exceptionally brilliant and highly industrious ' Halogen' ,he was appointed as Special Duty Prefect – the first of its kind in AAAMCO! His success stories radiates through the nooks and crannies of the school and beyond before rounding up in 2000.
In furtherance of higher education, the well – loaded Jamiu gained admission into the prestigious Ahmadu Bello University, (ABU) Zaria where he studied Pharmaceutical Science in the year 2002.
For his reputation as one who can hardly do away with his studies and tedious reading routine, he was referred to as a ' BookWorm'.
As a tradition accustomed to AbdulKareem, he continued where he stopped at AAAMCO in his academic prowess in the citadel of learning by scoring Straight A's with reckless abandonment.
In order not to endanger his health as advised by the ABU Zaria Health Personnel for always reading 2- 4-7, he ventured into Student Union Activism and eventually ran for the Presidency of his Faculty before it was disbanded for reasons best known to the School Authority.
As usual, Asuku Jamiu graduated from Ahmadu Bello University, Zaria with flying colours. He later proceeded to University of Abuja Teaching Hospital (UATH), Gwagwalada for his mandatory Internship having passed the entrance examinations.
As it is the practice, he observed the mandatory 1 year National Service @ Garki Hospital Abuja between 2010 – 2011. He later joined H- Medix Pharmacy @ 48, Ademola Adetokunbo Crescent, Wuse 2, Abuja as 1st Superintendent Pharmacist.
Due to his dexterity, dutifulness and prowess in his proffesional calling, he established personal relationship with the owner of Fair Plus Transport Company, Abuja, Alhaji Yahaya Adoza Bello. He was close to Ambassador Joshua Okpo, who was then Rector, Maritime Academy, Oron, Akwa – Ibom State. Due to the robust engagement, he was able to secure a job through him in the Maritime Academy, as Head, Pharmacy Department between 2012- 2015.
When Alhaji Yahaya Adoza Bello declared his gubernatorial ambition in 2016, Asuku further cemented the long relationship by throwing his weight behind the project which today is now a divine partnership which was made possible by steadfastness, unrelenting efforts, grace, and ultimately fidelity.
When fate smile on GYB, he without hesitation appointed Pharm. ASuku the Director General (Protocol), Government House. During this period, he carried out his duty without blemish.
As a reward for the unprecedented milestones the ' New Direction' Administration recorded within a very short time, the vibrant, energetic and highly resourceful Jamiu was appointed as the Chief of Staff (CoS) to the Governor following the resignation of Chief Edward David Onoja in 2019.
This realist as the CoS to the Governor has over time demonstrated unimaginable strength, capacity, courage and character as a Leader of great repute. Under his watch as Chief of Staff, he has initiated sustainable reforms in the Government of GYB. Today, those changes are yielding dividends in terms of quality service delivery, civil service reforms, high quality infrastructural human capital development and Investment Promotion etc.
In 2020, through personal efforts via the Asuku Free Medical Outreach, 4 Othorpaedic & 1 Spine Surgeries were fully paid for & undertaken in Kogi State. Pharm. AbdulKareem Asuku Youth Empowerment Foundation (PAAYEF) has over the years fully paid WAEC, NECO & JAMB fees of hundreds of students across the State.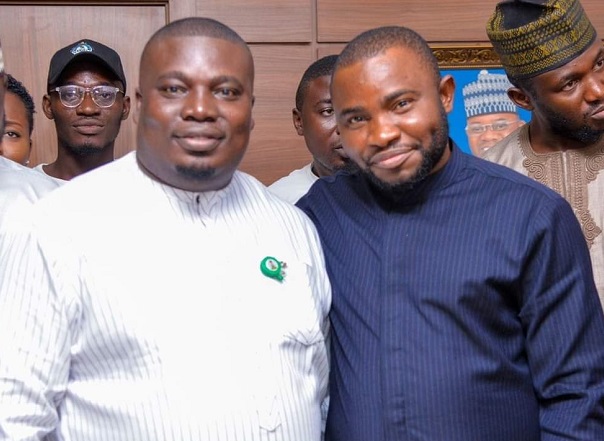 This and many more are the personal initiatives of the unassuming young Politician.
As the 2023 Kogi State Guber contest enters it's crescendo, Asuku being a performer and loyal to a fault personality whom GYB is well pleased, he is vying for the No 1 seat in the Confluence State of Opportunities.
As a precursor, we implore our eminent delegates to elect merit over mediocrity. Look beyond petty sentiments like religion, age or ethnic background. We desire an insider who knows where the shoe pinches and well equipped to continue to sustain the good works the GYB administration has started.
Our next Governor in Kogi State should be responsible, responsive and having a human face. ASuku Jamiu has all these traits and many more in quantum.
The TIME to place that square peg in a square hole is NOW!
– Hon. (Engr) Chief David Oni Sunday writes from Lokoja.