Nigeria Security and Civil Defence Corps (NSCDC), Kogi State command, on Thursday, paraded two persons, Omachi Yakubu, a farmer and Salisu Abalaka, a plumber, for selling poisonous cow meat to unsuspecting public.
The poisonous cow meat was earlier condemned as unfit for consumption and dumped at the Felele dump site by state authorities.
While speaking with newsmen in Lokoja, State Commandant of NSCDC, John Kayode Oyinloye said the Agro Ranger of the Command, upon report from veterinary doctors who discovered the said meat at Felele abattoir, alerted the Command who swung into action and arrested the culprits.
He said the Command would prosecute the culprits as soon as investigation is completed.
gave the warning in Lokoja while parading two suspects for attempting to sell poisonous beef to the public.
The State Commandant reiterated the Command's readiness especially the Agro Ranger Unit at checking the activities of nefarious men in the agricultural sector in fulfilment of its constitutional mandate.
He appealed to the State Government to support the efforts of the Agro Ranger Unit with mobility to effectively patrol the 21 Local Government Areas of the State.
Also speaking, the Commander Agro Ranger Unit of the Command, CSC Bayode Emmanuel said the unit is poised to make sure all agricultural products and meat sold to the public meets the required safety for consumption.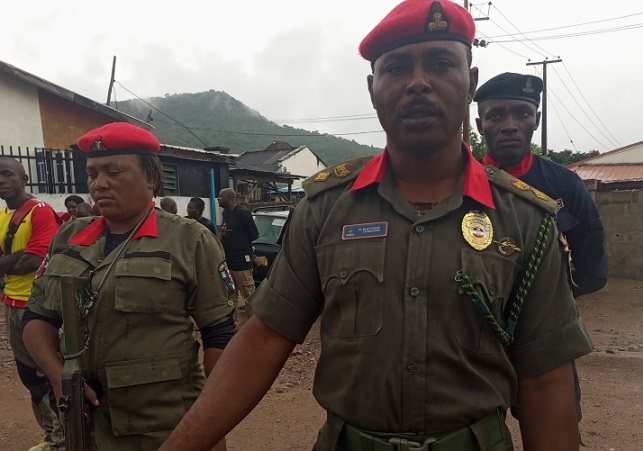 According to him, the Unit is in synergy with the Ministry of Agriculture and relevant sectors towards achieving set goals.
In a remark, the Kogi State Team Leader, Meat Inspection Team, Felele Abattoir, Doctor Ocholi Obaje and the Area Veterinary Officer, Lokoja, Doctor Musa Gomina Mohammed of the Ministry of Agriculture both said the meat which was earlier condemned as unfit for consumption and dumped at the Felele dump site was later seen in the market which led to the arrest of the suspects.
In an interview, the suspects, Omachi Yakubu, aged 26years and Salisu Abalaka, aged 32, both living in Felele Area of Lokoja who confessed to the crime appealed for liniency in judgement as they are not aware the meat was not fit for consumption.