In a heartwarming initiative to combat food insecurity and provide relief to the less privileged, a well known Tazan Foundation has embarked on a mission to distribute essential food items to communities across three local governments.
This compassionate effort aims to make a significant impact on the lives of those facing food scarcity.
Tazan Foundation, a well-known charitable organization, has stepped up to address the pressing issue of hunger in our local communities. Their recent food distribution program, spanning three local governments, is bringing hope and sustenance to many families in need.
Communities in Adavi, Okehi and Lokoja Local Government Areas are now witnessing the positive impact of this benevolent endeavor.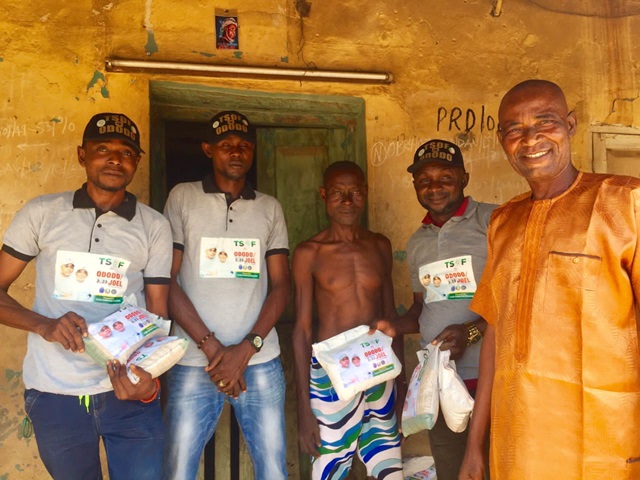 The Tazan Foundation has made it their mission to reach as many underprivileged households as possible.
Hundreds of families have already received food package containing rice. This effort has been a lifeline for many individuals who have been struggling to put food on their tables.
Earlier in his chat with newsmen in Lokoja, Founder of the Foundation, Amb. Tazan Onimisi spokesperson stated, "We are deeply committed to our mission of eradicating hunger and poverty from these local communities.
The response from the recipients has been overwhelming, and it's inspiring to see how our collective efforts can make a real difference."
Local residents have expressed their gratitude for the foundation's timely intervention. One recipient, Omieza Yusuf, shared, "This support means the world to us. It's been a difficult year, and these food supply will help my family get through tough times."
The Tazan Foundation is not only providing essential food items but also raising awareness about food security issues and encouraging others to join the fight against hunger. Their dedication to making a positive impact on society is truly commendable.
This heartwarming initiative serves as a reminder that small acts of kindness can lead to significant changes in the lives of those less fortunate.
Tazan Foundation is a shining example of how individuals and organizations can come together to create a better, more compassionate world.
As the foundation's food distribution program continues to expand and reach more communities, there is hope that hunger can be alleviated, one meal at a time.