The Deputy National Publicity Secretary of the All Progressives Congress (APC), Hon. Murtala Yakubu Ajaka has resigned his membership of the party.
In a letter addressed to the National Chairman of APC, Murtala thanked the national working committee of the party for the bond of friendship they shared over the years.
Murtala, one of the APC governorship aspirants in the recently conducted primary election in Kogi state, expressed confidence in the capacity of the NWC to help the in-coming administration upgrade the standard of governance for the greater good of Nigerians.
"I also, by this medium wish to thank my fellow NWC members for their extra-ordinary camaraderie while we worked together. It is my hope that we are parting ways on the basis of principle, only to meet again, in due course," the letter read.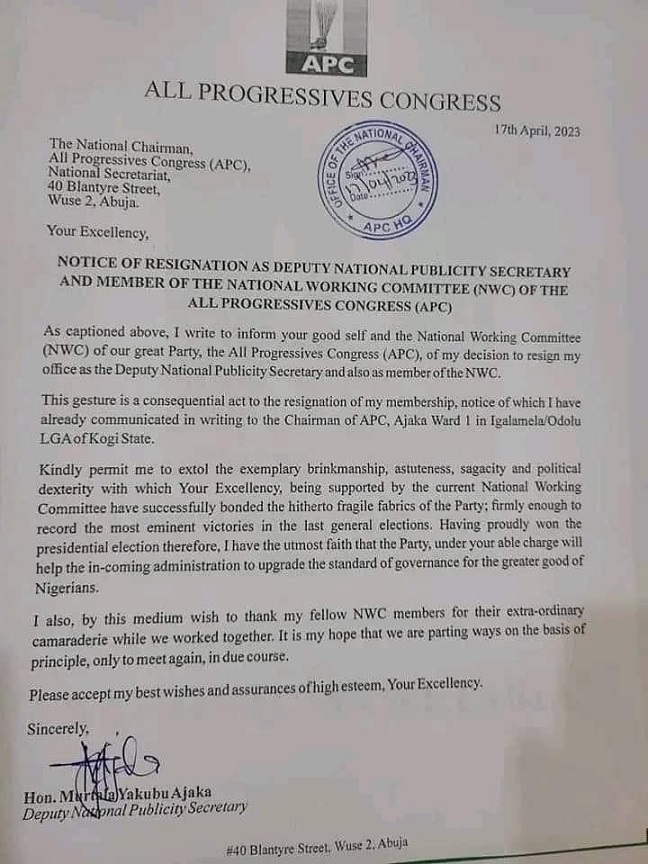 It is an open secret that Murtala has perfected plans to run for the November governorship election in Kogi state under the platform of Social Democratic Party (SDP) after being denied the opportunity to contest APC primary election in controversial circumstances.
The electorate are waiting for his formal unveiling as SDP governorship candidate to kick-start a much anticipated electioneering campaign in Kogi state.