Accord party has affirmed a former Chief of Naval Staff, Admiral Usman Jubrin (rtd), as the party's substantive candidate for the November 11, 2023 election in Kogi state.
Unveiling the candidate after the delegates affirmation in Lokoja on Tuesday, the national chairman of the party, Alhaji Mohammed Nalado, described Usman Jubrin as a viable and valuable candidate who poses the charisma, capacity, experience and the popularity to dislodge the ruling APC in the November , 2023 governorship election.
"The process that produced the candidate was very transparent as the place holder of the party Ahmed Ibrahim who voluntarily withdrew for Usman Jubrin to emerge through affirmation by delegates of the party from the 21 local government areas of Kogi state"
He assured that the candidate being a former naval chief of staff would be able to deliver the desired dividends of democracy to the people.
Nalado solicited the support of the party members and the people of Kogi state to win the forthcoming governorship in order to salvage the current situation in the state where percentage payment of salary has become the order of the day.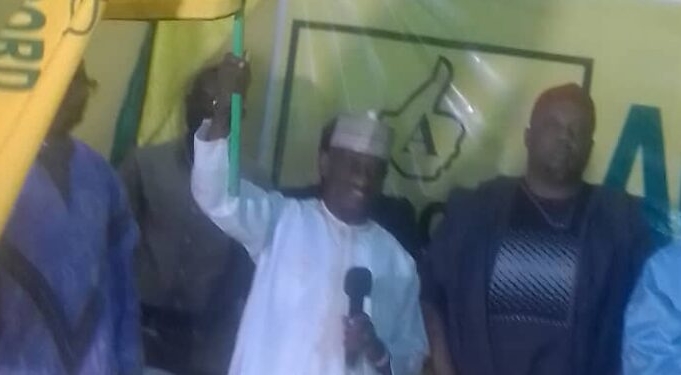 In his remark , the legal adviser of the party who is also the chairman of the electoral committee, Barrister Maxwell Mgbudem commended the leadership of the party for the seamless conduct of the exercise that led to the unveiling of the candidate of Accord party for Kogi state governorship election.
Delivering his acceptance speech, Usman Jubrin said he accepted the ticket of the party to contest the forthcoming election and win to enable him rescue the state from the hands of leaders who have plunged the state into precarious situation.
"Accord party has taken a position in Kogi politics and I am happy to be the candidate of the party. I thank Ahmed Ibrahim who withdrew for me to emerge and I am assuring our teeming supporters that the party will not disappoint them if given the mandate come November , 2023" he said.
While speaking on percentage payment of salary at the local government level , the candidate assured that under his watch as the governor of the state all civil servants both at local and state government level would take their full salaries as at when due.
He promised that workers that were unjustly sacked by the current government will be reinstated, saying change is desirable to take the state from the wood and suffering.