Kogi State Governor, Alhaji Yahaya Bello on Saturday presented staff office to 104 traditional rulers in the state.
He called for the inclusion of the traditional institution in the formulation of government programmes and policies.
Governor Bello stated this during the official presentation of staff of office to 104 traditional rulers at the Muhammadu Buhari Civic Center, Lokoja.
31 first class, 30 second class and 43 third class monarchs received oath of office and were presented with staff of office.
Governor Bello said in view of the role of traditional rulers as the custodians of the people's culture and traditions, they should be given the opportunity to make input on issues affecting the people.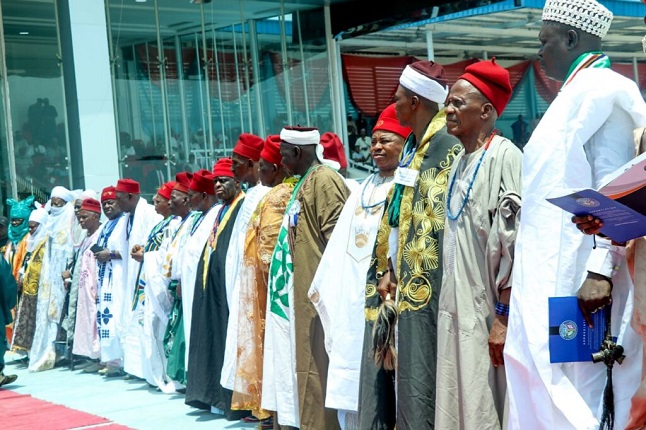 He said the peace being enjoyed in Kogi State was a result of cordial relationship with the traditional institution said crimes and criminality could be effectively checked with their support.
The Governor charged the newly appointed, graded and upgraded Chiefs to continue to maintain peace and unity among the people.
He said their appointment was based on their impeccable character, urging them to cooperate with the present administration towards achieving set goals.
While pointing out that he will continue to advocate for the inclusion of the traditional institution in governance, Governor Bello added that on his assumption of office he met an insecure underdeveloped state.
He, however, expressed satisfaction that he has made the state the most peaceful and developed in the country.
In his welcome remarks, the Commissioner For Local Government And Chieftaincy Affairs, Barrister Salami Ozigi Deedat said the administration placed a high premium on the traditional institution of their key roles in the maintenance of peace and security.