The Kogi State Head of Civil Service, Mrs. Hannah Odiyo has commended the state government for sharing palliative to Kogi workers.
Mrs Hannah Odiyo, while addressing the press after a randomly monitored exercise of distribution at the Ministries, Departments and Agencies (MDAS) in Lokoja metropolis, indicated that the reasons behind the move by the State Government is to help in ameliorating the hardship brought about by fuel subsidy removal.
Speaking further, she said that she has earlier instructed that the palliatives (bags of rice) be shared equally amongst the workers irrespective of rank or position i.e one bag of rice to three persons, admonishing that they maintain great sense of orderliness, discipline and sincerity during the course of sharing as the exercise would be strictly monitored.
Barr. Akpan Obediah, Permanent Secretary Administration and Public Service who represented the Head of Service, led the management team for the survey, described the distribution of rice as being fair in most MDAs, following strictly the formula for sharing.
She noted that most MDAs have been served except for Hospital Management Board (HMB), the field workers at STETCOM and a few others who are yet to be reached due to logistics issues.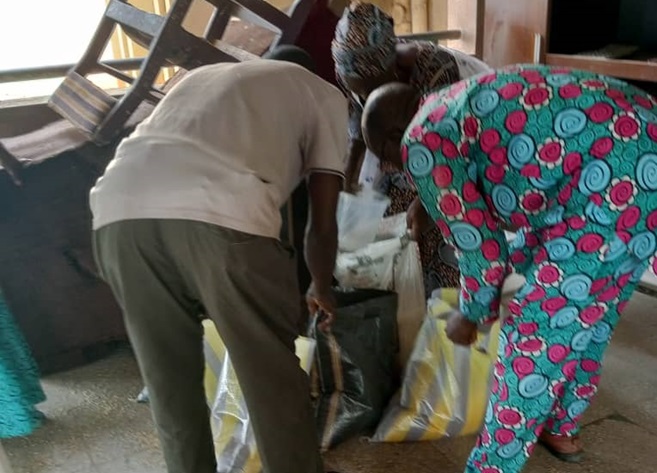 At Kogi State Sanitation and Waste Management Board, Comfort Jimoh who spoke to the Newsmen, expressed appreciation to Governor Yahaya Bello who has dimmed it fit to alleviate people's hunger through this gesture and as well confirmed that the formula for sharing was strictly followed.
Also, at Kogi State Ministry of Education, Danlami Bako, the Transport Officer, said that food distribution at this period is very timely and that this came as a relief to people's pain.
Other MDAs visited by the Head of Service. include Ministry of Commerce and Industry, kogi State Primary Health Care Development Agency, Local Government Service Commission, among several others.