Leaders and stakeholders across the fifteen political wards in Ijumu local government area of Kogi state have resolved to work as a united front for the benefit of the people.
Taking further steps to concretize their resolve, a socio-political pressure group, Ijumu Unity Group (IUG) on Monday, inaugurated members of its executive council and Board of Trustees (BoT).
In his speech, the Group Chairman, Mr Funsho Olumoko, said the IUG was fashioned to bring Ijumu citizens together for political renaissance for their social enclave.
He said the group would unite the people of Ijumu, discuss developmental issues and identify post political factors that could facilitate development projects to Ijumu kingdom.
He stressed the need for the people of Okun speaking race in Kogi West to be united if they want to occupy Lugard House in 2024.
Olumoko noted that since Kogi East had produced several Governors in the past, while the Central were winding down its second tenure, it behoved that power shifted to the West.
According to him, at times, to be successful in life you must take risk because often times what you fear the most to do is the very thing that will set you free.
"The big question on our lips today is are we as Ijumu, Okun people ready to take the bull by the horn? or are we just wishing to occupy Lugard House?
"Have we forgotten that power is not serve al arcarte? That the time to take steps is now! In oneness we should make this demand bearing in mind that it's oneness that make Jews Jew and Arabs Arab.
"We talk about numbers, but our hatred for each other, pull down syndrome, individual greed and the likes are the major problem facing us in Okun land.
"Remember that minority in some states in this country have produced the Chief Executive of those states and whatever differences we have also existed among them equally.
"We magnify others and that truly tear us apart bitterly. But if we as a people will make considerably impact, politically economically and otherwise, that element of oneness is caviar and of utmost importance," he said.
He stressed that there had been a disconnect between the leadership and the followers which had resulted to all forms of rebellion, back stabling, infighting and utmost betrayal, hatred, among others.
He emphasised the need for ijumu indigenes to support IUG to bridging the gap that would galvanise their people into formidable team that will birth new era in the area.
"Our political leader are no longer being listened to, a case of the rotational system jettisoned, what could be responsible for this?
"We implore all hands to be on deck so that the goal and objectives of this group can be achieved," he said.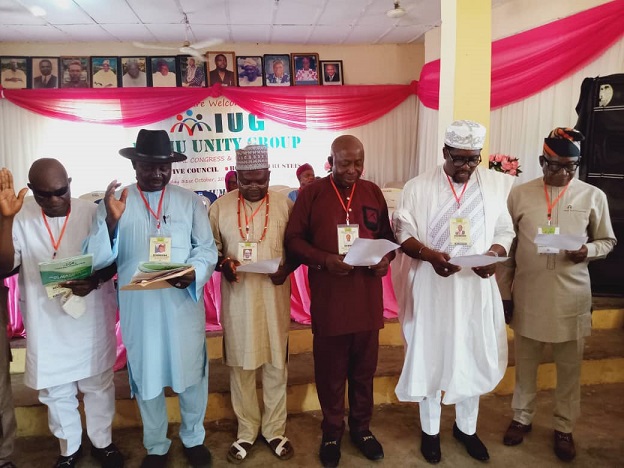 Barr. Emmanuel Mejabi, administered the oath of office for the inaugurated members during the IUG National Congress held on Monday, at Iyara in Ijumu Local Government Areas of Kogi State.
The Group Chairman Board of Trustees, Otunba APS Arogundade, said one of the key objectives of IUG was to bring together people of like minds from Ijumu kingdom to foster unity and oneness among members and Okun at large.
Arogundade, who was represented by Barr. Femi Oloruntoba, appealed to the politicians to use their power to benefit the people of Ijumu and Okun in general.
Earlier, the Chairman of Ijumu Local Government Area, Alh. Taofiq Isah, who declared the event open, called for a united Ijumu and assured IUG of his total support in all aspects to achieving its objectives.
A Socio-Political Group, Ijumu Unity Group (IUG) has thrown its weight behind calls for power to shift to Kogi West, Okun land in particular in the next governorship election.
Chairman of the Group, Hon. Funsho Olumoko said this while speaking with Newsmen shortly after his inauguration as Chairman of IUG as well as other Executives and Board of Trustee Members held at Iyara on Monday.
Hon. Olumoko, a Grassroots Politician said since Kogi East has produced several Governors in the past, while the Central are winding down its second tenure, it behoves that power shift to the West.
According to him, if the Governorship is zoned to the West, stakeholders in Lokoja/Kogi Federal Constituency will be appealed to, to allow Okun produce the next Governor since the Lugard House is located in Lokoja.
He said ahead of the 2023 General elections, the Group has commenced advocacy and education of electorate to get their Permanent Voters Cards and vote candidates of their choice.
Hon. Olomoko stressed the need for the people of Kogi West particularly Okun land to unite if they truly desire to occupy the Lugard House in 2024, adding that Unity is key.
The Chairman Board of Trustees, Otunba APS Arogundade, who was represented by Barr. Femi Oloruntoba said the group is not new but only changes name from time to time.
According to him, time has come for the people not to depend solely on politicians to achieve community developments.