In a bid to broaden its reach, the Alumni of the Federal Polytechnic, Idah (FPI) Kogi State has launched a medium to keep members abreast of developments in the association and institution.
The FPI Alumni association launch print and online versions of its 'Icons Magazine' 45 years after the establishment of the institution.
President of the Alumni, Martins Ahon said the institution with over 40,000 alumni has less than 10 percent of the members in tune with the activities of the association.
"The magazine created by the Alumni, is more than just a print paperwork. The magazine is dedicated to telling the stories of the Polytechnic alumni and their achievements, passions, and life pursuits.
"The federal Polytechnic Idah has a lot of alumni who have made a mark in their various fields of endeavor. However, the task of identifying them has not been easy. Most of the Icons published in this magazine are volunteers. Nevertheless, the rich profiles of the nominees are testaments to the fact that the Federal Polytechnic Idah is indeed a great Polytechnic.
"With more than 40,000 alumni and active state and regional alumni chapters across the country, the Polytechnic seeks to highlight how individual alumnus are succeeding and contributing within their communities.
"We are proud of our alumni, of their individual progress, and what they contribute to their communities and their workplaces. They are an enormous source of pride and inspiration for our current students, as well as our faculty and staff. The 'Icon' Magazine offers a place where more individuals can be inspired and engaged with their alumni network and community.
"Overall, the Federal Polytechnic Idah Alumni Icons Magazine is an attempt at telling the story of the Federal Polytechnic Idah," he said.
Chairman of the occasion, Dr. Manuel Onucheyo asked the Alumni to be committed and sustained the magazine, "Most of American universities has magazines and those magazines are still surviving till date.
"I therefore charge you to use this Icons magazine to provide link between the alumni and the institution. This magazine should focus on repositioning the institution amongst its peers.
"FPI is now a brand in the market to show case Kogi State; and the Magazine will go a long way to assist in marketing the school and the state to the global world."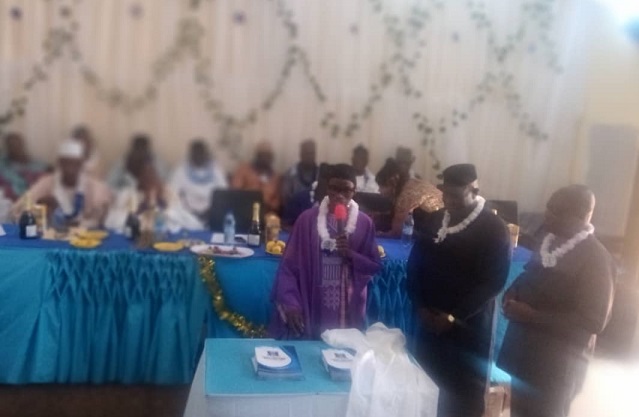 The rector of the institution, Dr. Didi Baba expressed joy that the alumni which was docile before has picked up strength. He charged them to do more and always find a means to fill up any vacuum in the institution.
The project was made possible through the efforts of an alumni task force led by Mr. Bennerd Egwiekhor who said the magazine will be updated yearly and in the future, present a compodium.
The occasion also witnessed a lecture delivered by Prof. Titus Umoru, Dean, Faculty of Education, Kwara State University, who spoke on the topic "Breaking through barriers to achieve life goals."