The Action Alliance candidate in the November 11 governorship election in Kogi State, Otunba Olayinka Braimoh has facilitated provision of a brand new power transformer through Abuja Electricity Distribution Company (AEDC) to Agalupa community in Kabba-Bunu LGA of Kogi State.
In the same vein, he made provision for the resuscitation of the transformer at the Iluke and Ayegunle Gbede communities respectively
Speaking at the transformer site in Agalupa town, Kabba, the former Kabba-Bunu LGA Chairman, Hon Are Ariyo; Iludun District Head, Chief Arokoyo; Agalupa Development Union (AGU) Secretary, Mr Mark Friday; and Chief Ampitan Sunday (aka Chemical) spoke in succession but in similar voice, praising Braimoh's act of magnanimity and praying for his success at the poll on November 11, 2023.
The Action Alliance Chairman, Kabba-Bunu LGA, Mr James Sunday (aka Computer) said, "This is a big relief for Bunu and Gbede land because Ayegunle Gbede to Iluke communities have been in darkness for over six years. Providing a transformer to Agalupa while supplying spare parts and also making provisions for labour on the existing transformers at Ayegunle and Iluke simply means Braimoh has replaced darkness with light in the communities.
"May God continue to lighten and brighten up his life. With all sense of modesty, I make bold to say that Olayinka Braimoh deserves to be our next Governor."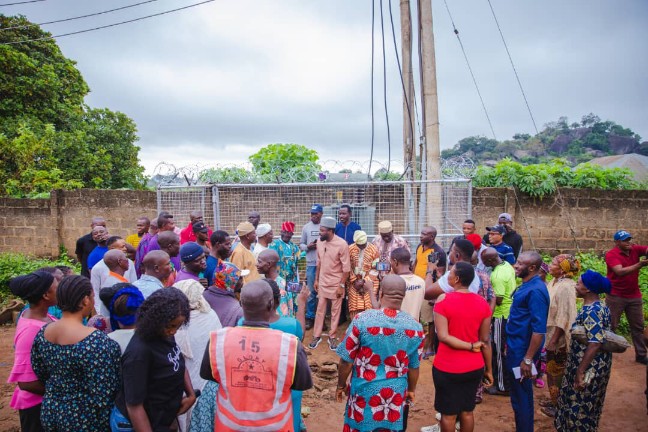 On his part, Otunba Olayinka Braimoh, who reacted to the praises and prayers of the people of Agalupa community, said, "We all know that light is essential in human life. My STAT agenda encompasses everything that brightens human life including electricity. Processing and packing of solid minerals, agricultural produce, tourist centers, and business value chains require electricity to strive. So, seeing people in darkness makes me sad and that was the reason I decided to facilitate the transformer to Agalupa and at the same time, made provisions for the spare parts and labor meant for the fixing of the transformers at Iluke and Ayegunle Gbede respectively
"You can imagine what I will be able to do as the executive Governor of Kogi State. Having executive power will give me the rare privilege to light up many other communities that are presently in darkness in the State. This and others, as enshrined in the STAT agenda, are the reasons I want to be the next Governor of the State"