By Muhammed Nasiru Adejoh.
The Tinubu Shettima Ambassadors (TSA) has inaugurated its coordinators across the six geopolitical zones, thirty six states and the Federal Capital Territory.
The inauguration ceremony took place at the group's national office in Abuja as part of its activities to commence full mobilization of voters for the All Progressives Congress (APC) candidates across the country.
In his address, the Director General of the Tinubu Shettima Ambassadors, Prince Oladele Oyelude said the core objectives of the group is to mobilize eligible voters from the grassroot for the aspiration of Tinubu-Shettima joint ticket by reaching out to the State House of Assembly members, Local Government Legislators and all progressives in general.
He added that the TSA is a united structure with a common mission, vision and goals that hopes to engage major stakeholders in States and strict contact with State and Local Government legislative aides.
Prince Oladele concluded by saying, as a support group, members of the Tinubu Shettima Ambassadors, TSA are already following the men who know the roads and called on all Nigerians to go to the grassroot and sweep it clean.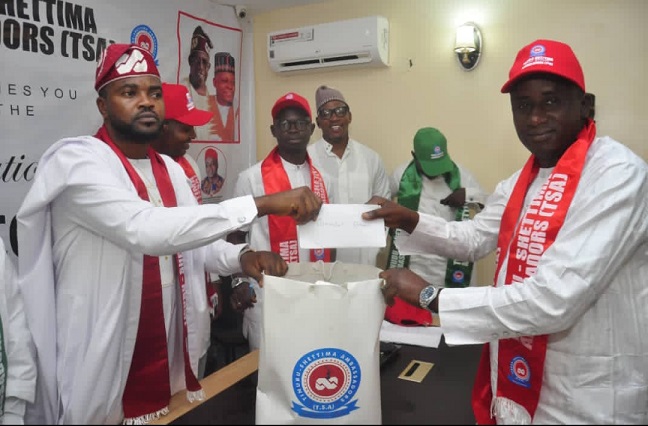 In his vote of thanks on behalf of other inaugurated Coordinators, the Edo State Coordinator, Comrade Attahiru Abdulganiyu thanked the National body for considering the Coordinators for the appointment which he described as a noble course and vowed that they will work round the clock to ensure the APC wins from top to bottom.
The highlight of the inauguration was the official unveiling of a Toyota Sienna bus donated to the Tinubu Shettima Ambassadors by Sen. Mohammed Sani Musa 313 as well as an acknowledgement of the fully furnished duplex donated by Rt. Hon. Chukwuma Umeoji as an office complex.