The rate at which the Emodu Community Secondary School Old Students Association (ECSSOOSA) accomplished its first project at ECSS, Ofabo was a "Light Speed".
The current ECSSOOSA was founded early January, 2021 and by October 3rd, 2022, its block of two classrooms and an ICT Office was commissioned for use.
The commissioning which was done by the Chairman of Ofabo Communities Development Association (OCDA) received a tremendous applaud that has set a standard for both communal and community development in our land today.
This speed is unimaginable, especially because of the prevalence of the hardship in the land, pervasive corruption, mutual suspicion and mistrust, family dissuasion, clannish chauvinism, massive and dispersed  population involved, no facial congregation, skepticism, and misuse and clash of status. 
But, thank God for that great grace and endowment.
On October 10, 2020, during an expanded National EDA Executive and stakeholders' meeting at Uyomira Hotel Lokoja, Mr Paul Ikwoche, the national chairman raised a point of urgent importance.
He drew the attention of the people to infrastructural decay at ECSS, Ofabo which called for urgent intervention. He however declared that though EDA was the establisher of the school, it was difficult for her to do any meaningful thing yet due to the numerous challenges before her. 
He suggested that the many "offspring" of EDA could be harmonized to rescue the school.
 He therefore suggested that I, Friday Isah Ekpa, should help to bring the old students of the school together; a suggestion which was accepted and adopted.
Perhaps, Mr. Chairman's clarion call may have been necessitated by the several pictures of the dilapidating and inhabitable structures at ECSS,Ofabo, which I had earlier posted on our WhatsApp
Platforms.
Consequencetly, early January, 2021 I created Emodu Community Secondary School, Ofabo, Old Students Association (ECSSOOSA) WhatsApp platform,
Mr. Abel Anyebe was the first I added. This was because, he had previously founded and fund an ECSSOOSA agenda, but was stymied . due to factors beyond his control then.
Subsequently, a mass administration was used to bring in known old students and friends of the school all over the globe.
ECSSOOSA's Ball began to roll after the Exco and BoT were constituted with a powerful media drive as championed by Mr Abah Benjamin Eneojoh Treasure, and I went to the background as the liaison officer of the association.
The EDA national chairman, Mr. Paul Ikwoche, who is equally an alumnus of school used the opportunity to reach out to Emodu patriots and friends to come to the aid of the school, which yielded favourable results.
In like manner, Mr. Daniel Onojah, the Ofabo Community Development Association (OCDA) president, who doubled as an alumnus of the school and ECSSOOSA BoT member, having acknowledged that Ofabo Community is the host of the school with more than 80% alumni, mobilised OCDA members, friends and well wishers to commit their Body, Soul and Spirit to the rehabilitation and development of the school.
His all round altruistic commitment in the activities of ECSSOOSA culminated in his appointment to commission the association's first project.
Many Emodu or Ofabo sons and daughters who never went to ECSS, Ofabo, neither their children, took the school as their personal project. Several others persuaded their friends to support ECSSOOSA projects.
The zeal, largesse and wholesome commitment demonstrated by our siblings, leaders, every alumnus, friends and sets fast tracked the quick success and landmark legacy ECSSOOSA has been able to achieved within the short duration of its establishment.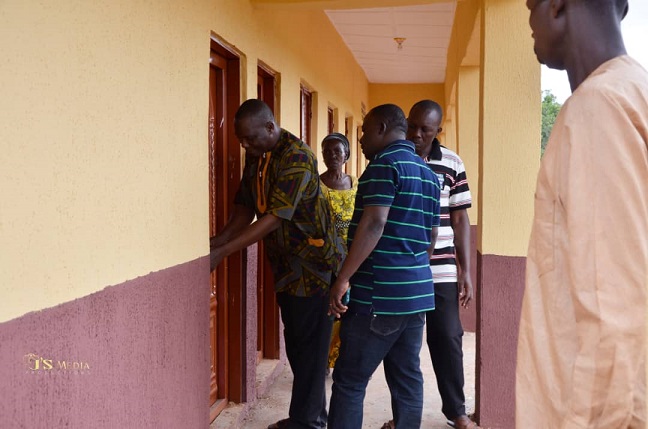 This is unprecedented and remarkable, and is dedicated to God Almighty.
Another time of ECSSOOSA's annual Valentine programme is here and we are gladly waiting for the General Scretary in person of Mr Daniel Baba and the ECSSOOSA Media Parliament to kick-start their campaign for the Programme.
– Friday Isah Ekpa wrote from Ofabo.
1986 Set.