General Manager, Kogi State Signage and Advertisment Agency, Hon Richard Osaseyi has paid school fees of all students and pupils of public schools across Okoro Gbede, Ijumu local government.
He also distributed free exercise books to the students and introduces the National Health Insurance Scheme to the community.
These were presented to the students at the 6th edition of his annual scholarship scheme in his hometown, Okoro Gbede on Tuesday.
The Olukoyi of Okoro-Gbede expressed joy that this was happening during his reign and in his life time. He thanked the humanitarian, Richard Osaseyi, for giving back to his people and also taking off a huge burden off the shoulders of parents and community members alike.
The Olugbede who was also present, prayed on Osaseyi and pledged his unalloyed support always.
In his address, Hon. Richard Osaseyi urged the students and pupils to reward his efforts by being exceptional in their educational endeavours and shunning vices that could distract them from reaching their goals.
He urged parents to pay adequate attention to their children, provide an enabling environment for them to study and thrive, and also raise them to be good humans.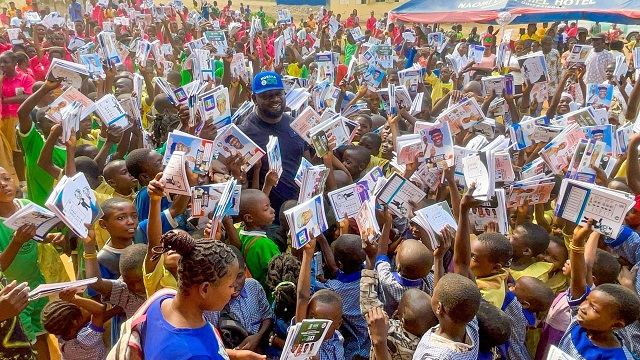 He unveiled the National Health Insurance Scheme, which was introduced in the community by a team from the scheme. The scheme would afford members of the community the opportunity to access health care for next to nothing.
A member of the team, Mr. Ogijo explained to community members that when they get registered on the scheme, they would pay only ten percent of the actual cost of treatment at hospitals, which are under the health scheme.
The annual sum of N15,000 per beneficiary would be covered by Richard Osaseyi's generosity. The scheme will have at least 300 beneficiaries. 
The beneficiaries of the scheme, according to Osaseyi, will be senior citizens, aged 65 and above, widows, orphans, people with disabilities, pregnant women, nursing mothers and clergymen of both religions.
He thanked everyone present for their continued support and prayers. He promised to always give back to his people as long and as much as the Almighty blessed him.
The parents present thanked Hon. Richard. They showered encomiums on him and promised to always align with his aspirations. This, they reiterated by pledging to throw their weight behind him in the coming elections. Several members of the community pledged to cast their votes for the ruling party, the All Progressive Congress (APC) across board.
In attendance were royal fathers, government officials, a team from the National Health Insurance Scheme (NHIS), the Osaseyi Foundation team, community leaders, parents, teachers and the students.