It was a gathering of crème de la crème as the remains of a foremost development economist, Chief S.K. Adedoyin were laid to rest after a funeral and thanksgiving service at Saint Peters Anglican Church, Ayetoro Gbede, Ijumu local government of Kogi state.
Among the dignitaries that graced the funeral were Olujumu of Ijumu, Oba Williams Olusegun Ayeni; former Deputy Chief of Staff to the President, Chief Olushola Akanmode; governorship candidate of the Peoples Democratic Party (PDP) in Kogi state, Senator Dino Melaye and House of Reps member-elect for Kabba-Bunu/Ijumu federal constituency, Arc. Salman Idris.
Also in attendance were Chairman of Ijumu local government council, Alh. Taofiq Isa; member-elect for Ijumu constituency in the State House of Assembly, Hon. Omotayo Adeleye-Ishaya; agriculture expert, Dr. Tunji Arosanyi; Prof Yemi Akinwunmi; Mr Oludare Bello and Mr Ola Oyelola, a former Eexcutive Director at First Bank among several others.
In his sermon, the Pioneer Bishop of Ijumu Anglican Diocese, Church of Nigeria, Dr. Ezekiel Ikupolati reminded the congregation on the fact that no man will live forever as all mortals will die someday.
Dr. Ikupolati, who stressed the need for good works, urged the people to make sure that the engage in acts that will earn them eternity as God will judge all after death.
He emphasized the need to live lives worthy of emulation, saying late Chief S.K Adedoyin used his life time to contribute to the growth of the Church, his immediate community, Kogi State and Nigeria at large.
The Pioneer Bishop urged children of the deceased to emulate the outstanding virtues of humility, love and selfless service to God and humanity exemplified by their father during his life time.
Inhis remarks, the governorship candidate of PDP, Senator Dino Melaye, thanked the Church for their support and prayers, urging them to sustain same especially his ambition to rescue Kogi state.
Melaye sympathized with the family of Chief S.K Adedoyin, the Anglican Diocese of Ijumu, Ayetoro Gbede Community a d prayed God to grant them the fortitude to bear the irreparable loss.
The Chairman of Ijumu Local Government, Alh. Taofiq Isa, who represented Governor Yahaya Bello, the Executive Governor of Kogi State, extended the condolence of the state government, prayed God to grant him eternal rest.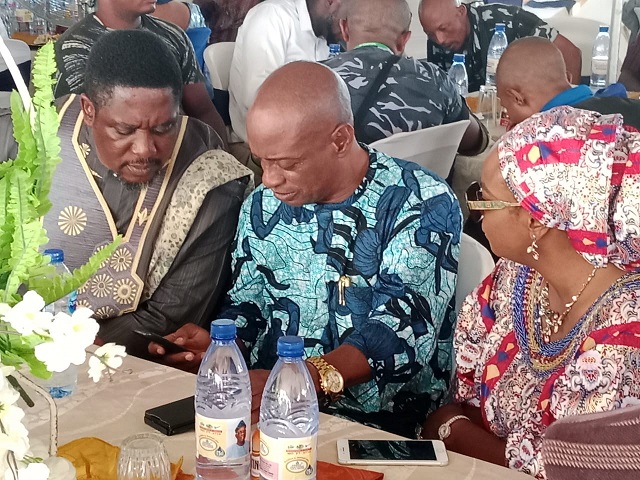 The eldest child of the late development economist, Mrs. Alice Olotu, said the vacuum created as a result of their father's demise will be too difficult to fill as he was loving, caring and a disciplinarian.
Mrs. Onotu thanked all that identified with them at a moment of grief and prayed God to reward them.