Kogi-born philanthropist and CEO of Builders Hub Impact Investment Program, Barr. Natasha Hadiza Akpoti has marked her 42nd birthday with the commissioning of some community development projects she executed across Kogi-Edo axis.
The former governorship candidate who arrived home on Thursday 9th of December 2021 was received by mammoth crowd in Okene where she paid a courtesy call to the Ohinoyi of Ebira land before heading to the commissioning ceremony of the Lagos-Ibillo-Lampese-Okene-Abuja road in company of traditional rulers and community leaders.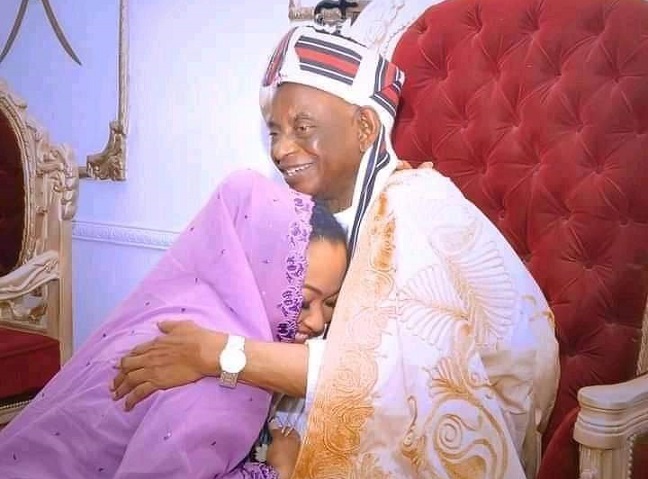 Speaking at the ceremony, Akpoti thanked the people of Ibillo-Lampese community especially the youths for the supports and cooperation they gave to the workers during the rehabilitation works. She charged citizens to see nation building as a collective task while making impact without waiting for a position of authority.
"Nation building is a collective responsibility which requires citizens to positively influence the environment in whichever way they can. If you find yourself in a position where you can make an impact, please do not hesitate. You don't have to be in office, you don't have to own a position of authority. You can make an impact of service and a project," Akpoti said.
Taken by overwhelming joy, the people of Okpameri Kingdom rewarded Natasha's patriotic act with a chieftaincy title as Osasafe of Okpameri Kingdom in a reception held at the Okpameri grammar school, Akoko-Edo, Edo State. 
Conferring the title on Akpoti, the Chairman of Okpameri Descendants Union, Kingsley Ekundayo said "we are sure we have gotten the biggest gift of the season from Natasha and hence the title Osasafe (one who repairs home)."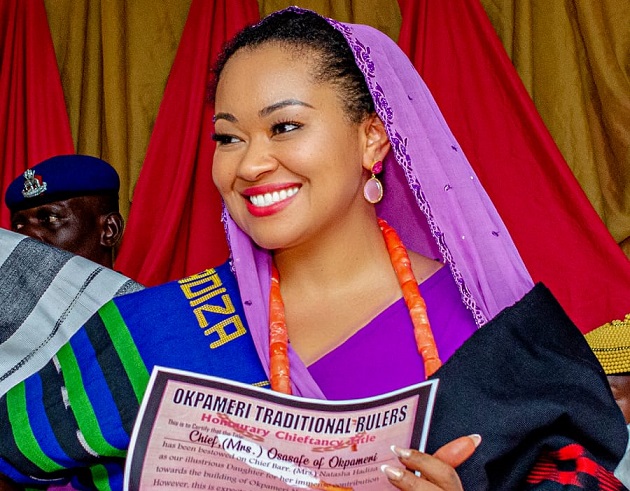 Recalling their sad past on the 1.4 kilometers Kogi-Edo highway, the villagers narrated how the road had been a death trap and nightmare for motorists and commuters.
According to the Imah of Somorika, "travelers used to spend days on the road with loss of lives, damaged vehicles, exposure to kidnappers and other dangers. They have robbed some of our people on that road".
"People used to abandon their vehicles and bags and trek to the other side of the road," Oba of Ojirami said.
Akpoti proceeded to her Ihima community of Kogi State where she officially unveiled a street named after her late father, Dr. Jimoh Akpoti, and also flagged off another road that will link Ihima with other parts of Edo State. 
The birthday event was sealed with a surprise party in Ihima where the Nigerian superstar artiste, Patoranking held the crowd to elation.