Canvasses for massive votes.
Ahead of the November 11 governorship election, one of the prominent support groups for the actualization of the governing All Progressives Congress candidate, Alhaji Ododo Ahmed Usman, Kogi Ambassador Network has given succour to hundreds of widows in Kabba-Bunu/Ijumu Federal Constituency to support them.
The program was powered by the former Speaker of the Kogi State House of Assembly, Prince Matthew Kolawole and was well attended by APC stakeholders in the constituency yesterday in Kabba.
According to him, as part of his contributions to the overall success of the upcoming election in the area and his usual practice, widows are a vulnerable group in society considering their age and predicament, hence he decided to regularly support them with food items, clothing materials and cash to assist them to reduce their burden.
He said the candidate of the APC is tested and trusted, and added that Kogi state cannot afford to return to the opposition since President Bola Tinubu, an APC member is already leading in Abuja, that it will be a disservice to the state to look elsewhere.
He noted that the achievements of the administration of Governor Yahaya Bello in the area are a testimony of his love and care for the people, stressing that the State University sited in Kabba, headquarters of the senatorial district is more than enough, urging the people to vote for the party for the university to have the right footing.
Also speaking at the event, the Director General, of APC Campaign Council in Kabba-Bunu, Otunba Adeniyi Olayemi commended the former speaker for his usual support to the widows, stressing that he knows the kind of challenges widows used to face sponsoring their wards to schools without any meaningful assistance.
According to him, he remembered his mother, and how she struggled for the children to acquire education which has paid off for them today, while appealing for votes for the APC in the election.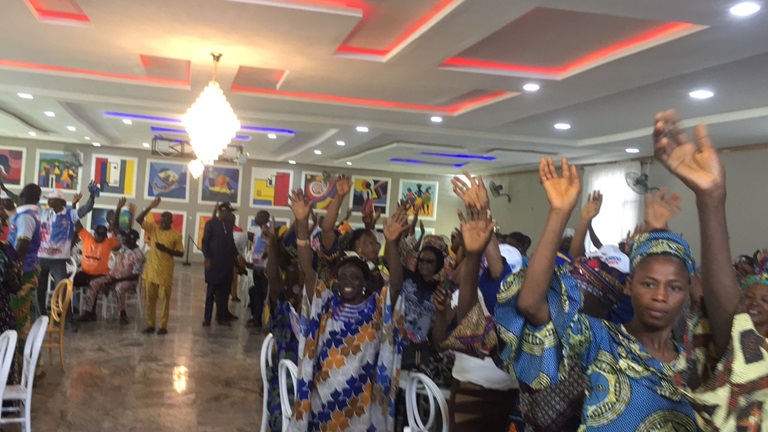 The SSA Entertainment to the Governor, Hon. Olorunnipa Juwon aka Jumabe used the medium to appreciate the people for their unwavering support to the people, says they intend to get more keeping the party in power.
He noted that if not APC, people of his age would not be considered for anything let alone an appointment of such status, urging the people to continue to believe in the party.
Other speakers assured the people of the party's readiness to sustain the laudable achievements in the areas of education, health, security, infrastructure development, human capital developments etc.
Dignitaries at the event include APC chairman, Kabba-Bunu, Comrade Solomon Jemigbawondo, Hon. Charles Olorunmaiye, APC Secretary Kabba-Bunu and SSA to the Governor, Mrs Grace Obamoh, Women Leader, Kabba-Bunu and SA to the Governor, Hon. Kola Arokoyo, Youth Leader, Kabba-Bunu and SSA to the Governor, Hon. Kayode Omosayin, SSA to Governor on security, Kabba/Bunu/Ijumu, Hon. Smart Adekunle, Deputy Council Leader, Kabba-Bunu Legislative Council, Chief Aguda Oludola, Hon Cornelius Olowo, Hon Amupitan Sunday, Councilors etc