Over the years, especially since 1999, Kabba-Bunu/Ijumu Federal Constituency have had several individuals take a seat in the Green Chambers of the National Assembly and the impact of their
representation is visible for all to see.
Of all those who have indicated interests to occupy the position in 2023, one person stands out clearly and he is, Idris Rufus Oluwafemi (IDRUFEM), frontline aspirant on the platform of African Democratic
Congress (ADC).
The Iluke-Bunu born technocrat and philanthropist for more than a decade has by his actions, conducts and activities displayed uncommon love for the people. The laudable programs and interventions to individuals, groups and communities makes him the reasonable aspirant/candidate of choice if the collective aspirations of the constituents of Kabba-Bunu/Ijumu Federal Constituency will become a
reality and not mere wishes.
From early in life, IDRUFEM exhibited leadership traits that gave him positions that will eventually build and prepare him for responsibilities in the future.  
A perusal of the life of this young man is imperative and instructive as it will clearly show his intellectual capacity and experience that will aid not only his quest to serve but assurance of his ability to deliver. He was; Social Prefect and President, Red Cross Society in Secondary School, 1998-1999.
Students Union Vice-President & Community Service Director of Rotaract Club at Federal College of Fisheries & Marine Technology, Students Association President at the Federal University of Agriculture, Abeokuta.
As an outstanding professional, IDRUFEM was Country Facilitator in Nigeria, Voice for Change UK, 2006. 
Senior Program Manager, Sustainable Research & Action for Environmental Development, Lagos 2005-2008.
Consultant to the State Government on International Partnerships, Trade & Investment; State of Osun, 2012-2017. 
Executive Director, CEED Pittsburgh, USA; 2008-2015.
Executive Director, CCTL, Youth Empowerment Initiative, Lagos; 2015- 2017.
Technical Adviser to the Governor on MSME Development & Wealth Creation, State of Osun; 2017-2018.
Senior Investment Manager, MADE II, UK Government; 2018.
Investment Portfolio Manager, MADE II, UK Government; 2018-19.
Program Director, Plant Program, UK Govt./Techno Serve; 2019-2020.
Deputy Chief of Party, USAID Feed the Future Aginvest; 2020-2021.
Country Director, Heifer International; 2021 till date.
IDRUFEM has an outstanding academic history with; 
National Diploma in Fisheries Technology, 1999-2001.
Bachelor of Environmental Management & Toxicology, 2001-2007.
Bachelor of Science in Biology, La Roche University, USA; 2008-2011.
Executive Education in Performance Measurement, Harvard University, 2012.
Master of Science in Community Economic Development, Southern New Hampshire University, USA; 2011-2013.
PhD in Global Leadership (In-view), Indiana Tech, USA.
In appreciation of his positive impact IDRUFEM has bagged numerous awards within Nigeria and international, prominent among which are; 
Entrepreneurship and Economic Development Award, African Union, USA – 2016.
Distinguished Alumni Award, La Roche University, Pa, USA – 2018
African & Caribbean Business Council's Award for Entrepreneurship Excellence, USA – 2014.
Okun Youth Icon of the Year – 2019.
Youth Empowerment & Nation Building, De Voice Nigeria.
IDRUFEM has consistently been a faithful ally of development efforts in several communities. A case of note, is the moribund electrification project of Iluafon/Illah/Iluke communities. The decrepit state of the project has kept these communities in total blackout for decades but reprieve came with the N1 million donation of IDRUFEMI towards the completion of the project. The significance of IDRUFEMI's intervention is not only the funds he provided but the catalyst his benevolence became which encouraged other people to key into the project. 
He has intervened several times in the education of indigent students at secondary and tertiary levels with scholarships, paid hospital bills,, procured drugs for medical centers and he is a loud voice on issues that affect the people directly.
IDRUFEM is unarguably the pillar of sports and this he demonstrated when he solely sponsored Bunu Students' Union Sports competition with millions of Naira in 2014. 
IDRUFEMI is also the sponsor of an annual Football Competition for Youths across Kabba-Bunu/Ijumu Federal Constituency. And the last edition in December 2021 was won by Kabba FC, Iyara FC came second, and Aiyetoro FC came third. 
IDRUFEM's "Okun to the World" Initiative, Widows and Youth Empowerment & Medical Outreach Programmes are some of the plethora of positive interventions that have positively impacted the people.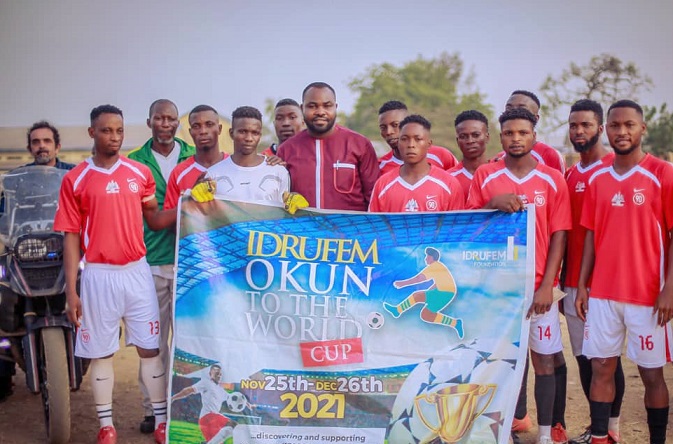 IDRUFEM has a lot of respect for the traditional rulers as custodians of our values, ethos, culture, and tradition. He believes Royal Fathers should be given more roles with constitutional backing which he intends to vigorously pursue when elected. 
 The constituents of Kabba-Bunu/Ijumu are imagining the fulfilled life they will enjoy with IDRUFEM as their Representative in the Green Chambers if with his resources, he could do so much for them.
Idris Rufus Oluwafem (IDRUFEM) is a seasoned and globally celebrated entrepreneur, philanthropist and humanitarian, who is ready to serve and change the narrative for the Federal Constituency positively. 
IDRUFEM's support for community development youth and women empowerment programmes are inspired by his passion to continually impact positively on the lives of the people, who remain his priority.
– IDRUFEM Media Office