As results of House of Assembly elections begin to trickle in, a former Governor of Kogi state, Alhaji Ibrahim Idris, has lost his polling unit to the ruling All Progressives Congress (APC).
Idris, the leader of opposition Peoples Democratic Party (PDP) in Kogi state, lost his Open Space polling unit along Anyigba Road under Mango Tree by Mechanic Shade in Abejukolo, Omala local government by a wide margin.
PDP polled 36 votes to come a distant second to APC's 88 votes in the unit.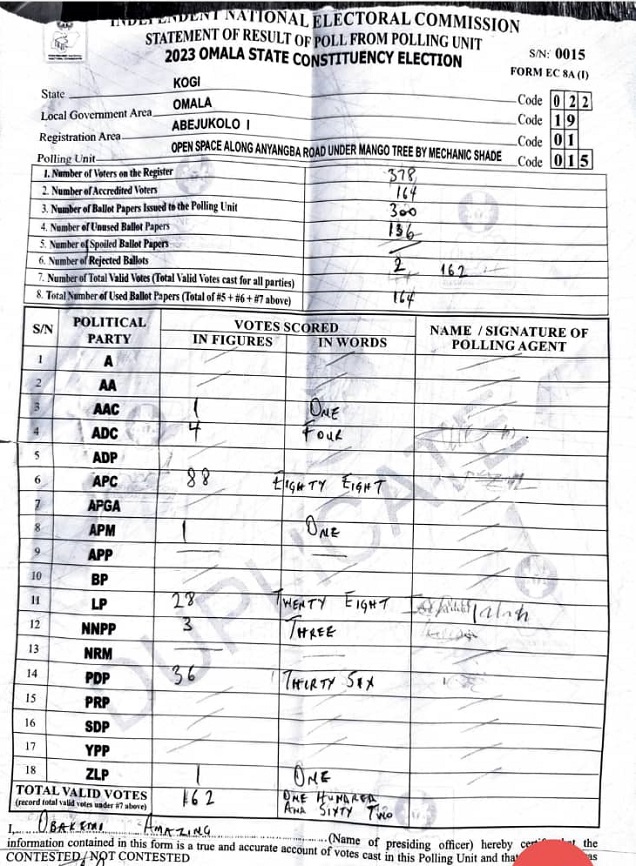 However, the state commissioner for Information, Evangelist Kingsley Fanwo, has delivered his polling unit to the ruling party, yet again.
In Fanwo's Polling Unit 004, Takete Ide/Otafun Ward 07, Mopamuro LGA, APC polled 169.
African Democratic Congress (AD) garnered 79 votes while PDP settled for 16 votes.
Also, the Rector, Kogi State Polytechnic, Dr. Salisu Ogbo Usman, delivered his Angwa Ogebe 003 polling unit in Ankpa township ward for APC.
In Dr. Usman Ogbo's polling unit, APC polled 214 votes while PDP got 100 votes. NNPP managed 7 votes.