Faculty of Science Students Association (FOSSA), Federal University Lokoja chapter, has honoured pace-setting individuals with commendable impact in the education sector.
This was part of the activities lined up for the 2022 annual FOSSA week.
Three heads of department: Prof. O.W Salawu, HOD Chemistry, Prof. Aaron Enechojo Auduson, HOD Geology and Dr. Gbenga Olorunshola Alege, HOD Biochemistry were honoured with award of excellence alongside Prof. Benjamin Mopa Dauda, the Dean, Faculty of Science.
In his speech, the President of FOSSA, Comrade David Kayode Ajigi, described science student in Federal University Lokoja as exceptional.
Ajigi hailed science students' creativity and noticeable industry while still in school and expressed confidence that they will impact the nation positively when they graduate from the university.
"Science is the bedrock of knowledge. It is the most important channel of knowledge. Science helps us to answer the great mysteries of the world. We decipher and generate solutions to everyday life issues.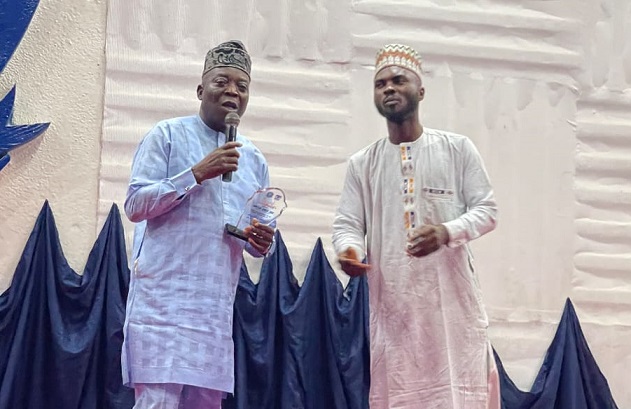 "Our journey to this point has been tasking but exciting. We acknowledge that no one gets to this point all by him or herself, so we want to take a moment to appreciate academic and non-academic staff in our respective departments. We won't be here without you all. Also, we take a moment to appreciate our parents, guardians, other family members and friends. Thank you.
"At this point, permit me to salute all members of our great association – the Faculty of Science Students Association (FOSSA). You have been exceptional and the ongoing FOSSA week wouldn't have been a success without you all.
"Today, we are launching the maiden edition of FOSSA Magazine that will serve as a launch pad for greater distillation of knowledge in the near future.
"Today, as well, we have decided to honour some great minds who have made tremendous impact in the lives of people around us through committed intervention in the education of the less privileged," he said.
The students body also honoured three eminent personalities for their commitment towards education development in different parts of the state.
The FOSSA President explained that the re-scheduled academic calendar, post ASUU strike, hampered the desire of spread the honour across board.
"There are many more deserving this honour, but for the obvious tight academic calendar, we had to limit the award to these three.
"We do sincerely hope that this honour will encourage others to invest more in education and make out society a better place, now and in the future," he explained.
FOSSA conferred award of excellence on Prince Elijah Ibinayin. Popularly known as Erukutu, Prince Ibinayin has consistently paid WAEC examination fees for final secondary school students in his alma mater, Kabba Community High School, Okedayo in Kabba-Bunu LGA. His interventions, spanning last three years, has put smiles on the faces of teachers, students and their parents.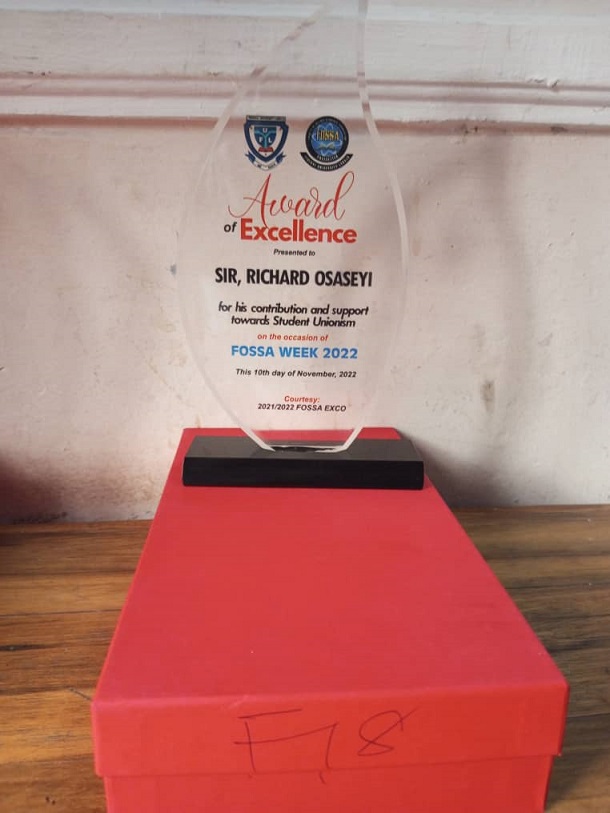 Another award recipient, the CEO of Osaseyi Foundation, Mr. Richard Osaseyi, was described as an impressionable personality. His foundation has lifted many out of penury and is currently blazing the trail in education scholarships. His education support schemes currently cuts across all communities in Kabba-Bunu and Ijumu LGAs.
The CEO De Sweden Ventures, Mr. Idris Fadile, a businessman and renown philanthropist was the third recipient. His philanthropy knows no boundaries. His education support initiatives is what qualified him for this year's FOSSA award.
The event witnessed the launching of the maiden FOSSA magazine and special recognition for faculty students who have made appreciable impacts in the social circle.
Some of these are: Olukotun Olasubomi Anthony (Ola Tony), humanitarian of the year; Ishaq Abdulbariu (De Captain), YouTuber of the year; Moshood Adeniyi (Smaj), content creator of the year.
Others are: Jemilat Omanyo Abubakar, entrepreneur of the year (female); Triple S Concept, brand of the year; Falana Azeez Adeyinka (Swagger Apparels), Fashion brand of the year; Nwafor Emmanuel (Brainz), student personality of the year and Omodede Precious (OmosDawta), humanitarian of the year (female).