By Opeyemi Ologun – Lokoja.
The communities of Apaa, Agbede and Agbadu in Kabba Bunu local government of Kogi state were agog on Saturday when they rolled out drums to welcome the State Security Adviser, Commander Duro Jerry Omodara Rtd in celebration of the approval of electrification project by the Federal Government through the Rural Electrification Agency.
Cdr Omodara's effort was appreciated for the consistent follow up with the agency and the approval received for the electrification of communities from Oshokoshoko, Apaa, Agbede, Agbadu to Odo Ape.
The State Security Adviser had taken up several interfaces, deliberations and follow ups with the industry stakeholders particularly at the Rural Electrification Agency through Engr Sanusi Ohiare, the Executive Director of Rural Fund of the Rural Electrification Agency, Abuja.
With this approval, survey and mapping of the areas are underway while the electrification work has  commenced in earnest with erection of electric poles.
The leaders of the communities have come together to appreciate the relentless effort of the Bunu political leader in bringing developmental projects to Bunu communities.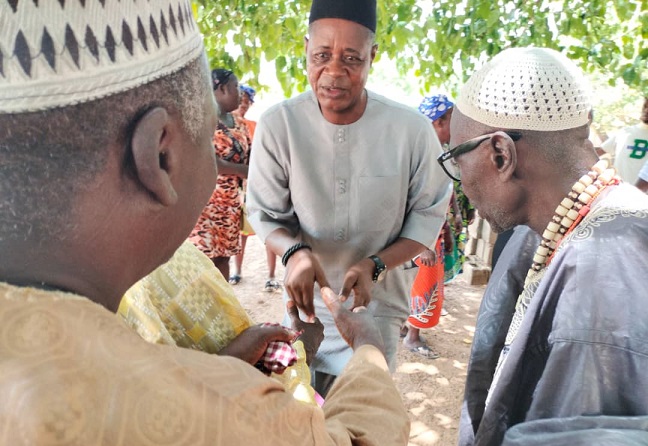 They further described Cmdr Omodara as an exceptional leader whose selfless service is unmatched in Bunu communities.
One of the community leaders, Chief Samuel Omosayin on behalf of the traditional rulers  and the people prayed that Cmdr Omodara would continue to reap rewards of his selfless service to Bunu and Kogi State at large.
They extended appreciation to the Executive Director of Rural Electrification Agency, Dr Sanusi Ohiare, for his compassionate consideration and prayed that God should be with him.
In his response, the State Security Adviser noted that it remains the sacred duty of whoever finds himself or herself in any position to make good efforts at improving the lives of the people. He said that he was happy with the commencement of the project by the federal government.
According to him, in the next few days, the efforts at restoring electricity to Iluke and other communities in the area will be realised.
He called on the people to continue to support the government at all levels as that is a way to sustain peace and get more from the government.