By Stephen Adeleye.
The Commander of the 12 Brigade Nigerian Army, Brig. -Gen Isang Akpaumontia, on Wednesday embarked on courtesy visits to key Heads of Security Agencies in Kogi State.
The Commander visited the Heads of Sister security agencies in Kogi such as: the Commandant, Nigerian Security and Civil Defence Crops (NSCDC), Ahmad Gamdi; the Police Commissioner, Akeem Yusuf; and the Director of State Security Service (DSS), Tosin Ajayi.
In hs comments at their various Command Headquarters in Lokoja, Brig.-Gen. Akpaumontia emphasised the importance of cooperation and collaboration among the DSS, NSCDC, and the Police, as well as other paramilitary agencies.
The Commander assured the security agencies of his commitment to leveraging on the already existing excellent relationship between the Brigade and the security agencies in Kogi State.
The courtesy visit began with a warm reception by Mr. Tosin Ajayi, the Director of the DSS Kogi Command Headquarters, where the commander engaged in fruitful discussions with the director.
Gen. Akpaumontia stressed the need to focus on intelligence sharing, enhancing joint operations, and strengthening collective efforts to combat security challenges in Kogi State and its environs.
At the NSCDC Headquarters, Kogi Command, Akpaumontia expressed his appreciation to the NSCDC's Commandant for his commitment to safeguarding the critical infrastructures and maintaining peace and order across the state.
The Commander harped on closer coordination in intelligence gathering, training exercises, and joint operations to effectively address emerging security threats.
At Police Headquarters, the Brig. -Gen commended the Police for the crucial role played in maintaining law and order in the state.
The Brigade Commander emphasised the need for enhanced synergy between the military and the police force.
He stressed the need to explore opportunities for joint training programs, information sharing, and cooperative efforts to tackle criminal activities.
Throughout each visit, the Brigade Commander expressed gratitude to the heads of the respective agencies for their dedication and efforts in ensuring the safety and security of the community.
Brig-Gen Akpaumontia emphasised the significance of unity among security agencies in the face of evolving security challenges.
In their separate responses, the heads of the DSS, NSCDC, and Police expressed their appreciation for the commander's visit, recognising it as a testament to the military's commitment to fostering interagency cooperation.
Ajayi, Gamdi and Yusuf, affirmed their readiness to collaborate closely, pooling their expertise and resources together for the greater benefit of the citizens.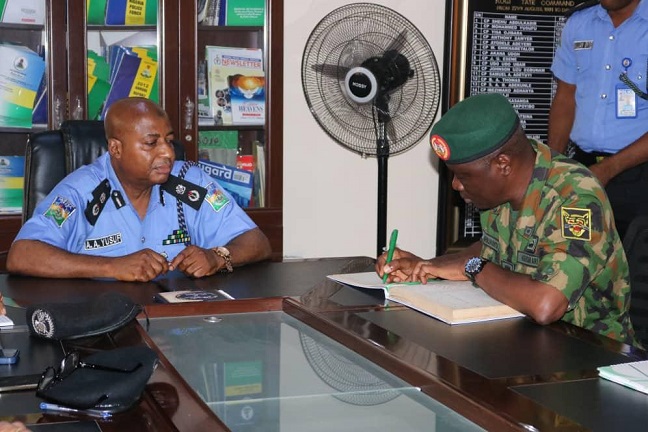 The courtesy visit concluded on a positive note, with all parties expressing enthusiasm for future joint initiatives and strengthened partnerships.
It is anticipated that such collaborations would lead to significant improvements in intelligence sharing, operational efficiency, and the overall security landscape of Kogi State.