The General Overseer of Chapel of Freedom, Bishop John Ibenu has expressed gratitude to Christians in Kogi state for the support he enjoyed across board throughout his six year tenure as Chairman Kogi State chapter of the Christian Association of Nigeria (CAN).
In his address during the election of new state executive in Lokoja on Tuesday, Ibenu also expressed gratitude to Kogi State Government, Governor Yahaya Bello and his Deputy, Chief Edward Onoja for their tremendous and overwhelming support.
He urged the state government to extend more support to his successors.
He equally thanked the media and security agencies for their massive support in the course of his stewardship as Kogi CAN Chairman.
Bishop Ibenu told the special plenary that he inherited Kogi CAN secretariat from his predecessor ay ground floor level but God surpassed the vision of the executive he led to take it to roofing level.
"God surpassed our expectation and we were able to roof, wired, ceiled, plastered, fixed all doors, fixed all windows, tiled the floors, rooms and toilets, fixed all the toilets, baths, showers and water heaters, installed a CCTV system, got the kitchen and offices ready.
"However, there still remains a lot of work to make it the guest house and secretariat of our dream.
"The new executive would have to look at what we have done, employ expert hands to take overview and complimentary inventory of what we have done and what is left for them to continue where we stopped.
"I must state here that the finds we used for the secretariat came from the state government and the gracious agreement of our leaders of blocs to make money available for us," he said.
Bishop Ibenu added that during his stewardship the executive acquired land at Felele axis of Lokoja, saw to the construction of Government House Chapel, secured WOWICAN land at Lokongoma Phase Two, Lokoja, and bought a Toyota Highlander for the state CAN.
He added that Kogi CAN, under his leadership, play prominent roles in averting Fulani herders-farmers conflicts, collaborated with government on security issues and resolution of labour conflicts, resolution of various inter-religious and intra-religious conflicts and during the general elections as observers.
He noted that within the six years service, they cleared all national and zonal dues and established substantive youth wing of the association, YOWICAN.
Bishop Ibenu appealed that the recommendation of financing Kogi State CAN put forward by Bishop T.E.D. Bako led team be looked into for implementation.
After the election of new executive, Bishop Ibenu handed over all properties of Kogi CAN, including vehicles, landed properties and N2,006,447.79 in the association's Union Bank account, to the new State Chairman, Senior Apostle Adebayo Olaniyan Emmanuel.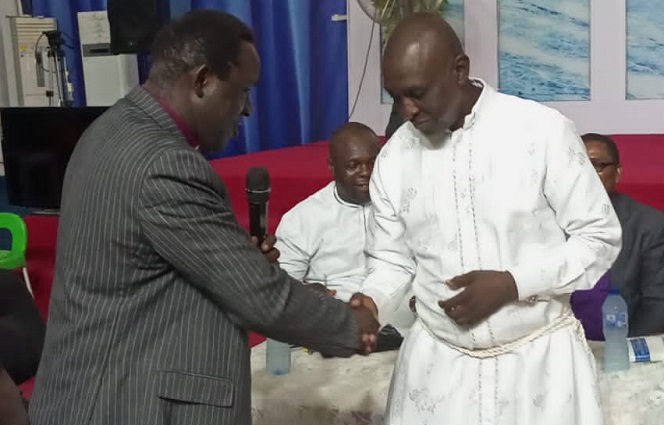 The Kogi CAN executive emerged in a free and credible election conducted by the North Central Chairman of CAN, Dr. Israel Akanji at the Chapel of Freedom Lokoja.
Dr. Ogakwu Onailo was elected as the Vice Chairman, Rev. Ijioma Denise as the Secretary, Paul Animazu as Assistant Secretary and Pastor Israel Adebisi is the Treasurer.
The new CAN Chairman, Adebayo Emmanuel commended the process of the election, describing it as free and fair.