Our wives, children now taking refuge in neighbouring communities – victims cry for help.
Governor Yahaya Bello has vowed to apprehend and prosecute perpetrators of the attacks on communities in Oganenigu ward, Dekina local government area of Kogi state.
Governor Bello made this known when led heads of security agencies in the state to Oganenigu for an on the spot assessment of the carnage on Tuesday.
He assured the communities of improved security intervention to forestall re-occurrence.
Governor Belo added that his government would be prompt in providing humanitarian supports for victims of the attacks.
The governor, who was represented by his Deputy, Dr. Edward Onoja, explained that following reports of the attack, security forces of military and police were promptly deployed to the affected and neighbouring communities and their presence forestalled more casualties.
He described the incident as barbaric, though not very frequent in Kogi state owing to the fact that the administration frowns at such occurrence, promising that the perpetrators would be brought to books.
Governor Bello commiserated with families of the deceased and community members who have lost loved ones and their properties.
He directed the State Emergency Management Agency (SEMA) to immediately provide relief materials to victims taking shelter in some internally displaced persons (IDP) camps.
Unknown gunmen had on Sunday attacked the community, burning houses, vehicles, motorcycles and business places.
During the Governor's visit, victims of the attack called for help as children and women, who were affected by the attack are taking refuge in various communities.
A resident of the community, Comrade Abimaje Prophet said Oganenigu consist of 33 villages, saying Edede and Ojiapata villages were the first and second respectively to be attacked with all houses razed with fire.
According to him, the community got an information about the attack and security agencies were briefed but the attackers launched the attack hours after the army left.
"This attack has been rumoured and we alerted security Agencies and on Saturday, we heard that some group of securities came to the town and after a while, they turned back, only for the attack to come up Sunday morning between 7:30-8am," he said.
He noted that the attackers succeeded with the attack due to lack of security post and good road network in the area. He called on government to come to their rescue.
He added that 8 persons, including the APC Ward Chairman of Oganenigu, were killed while trying to escape from the attack.
Another resident, Umar Edibo said about 52 houses were razed and many have been chased from their ancestral homes.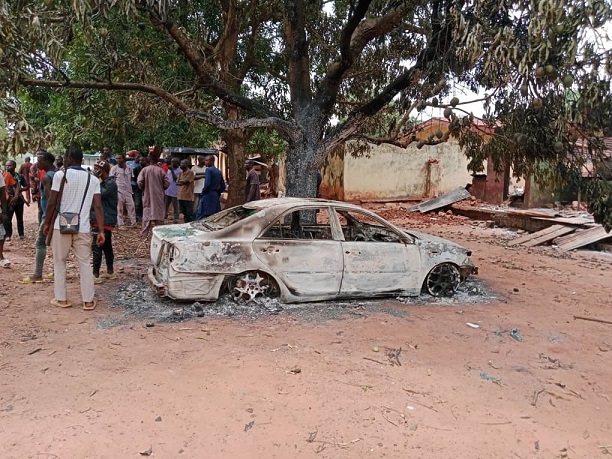 Mr. Abimaje David narrated that attackers started from Edede community, wreaked havoc in Ojiapata and Oganenigu leaving survivors running to neighbouring villages as they scampered for their lives.
Kogi State Commissioner of Police, Akeem Yusuf, said investigations have commenced into the matter to ascertain the immediate cause of the attack.
The Executive Secretary of Kogi State Emergency Management Agency (SEMA), Mr. Kolade Isaac, confirmed the enormous havoc wreaked by the perpetrators, while he revealed to journalists that upon submission of its reports of assessments government would swing immediately to action to provide basic amenities for those who have been displaced by the occurrence.
He also alluded that SEMA has identified areas of temporary settlement for some of the displaced persons and was close to identifying those who have been seriously affected for proper intervention.
After the visit, Governor Bello held an expanded meeting with security heads, leaders of Miyetti Allah Cattle Breeders Association (MACBAN) from Kogi and Nasarawa chapters, traditional rulers, local government chairmen of Idah, Igalamela-Odolu, Olamaboro and Dekina at the Ata Igala's Palace in Idah.